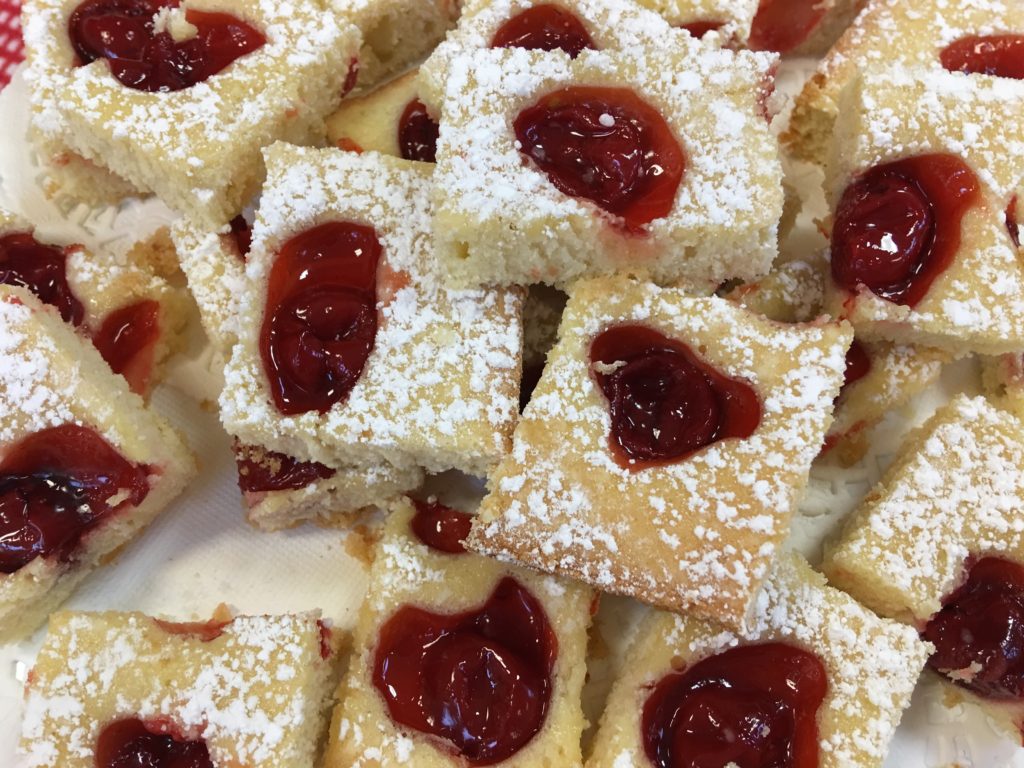 While we are in the very beginnings of apple and the fall recipe season, I am trying to squeeze the last of summer before cooking, baking, recipe testing and blogging about the wonderful season of apples, pumpkins and all of the delightful aromas that fill our kitchens as we kick off football and wings (they just seem to be synonymous)! Anyone else with me???
With that being said, this past weekend, I attended an event at my former high school in my hometown – signed some books, visited with old (not old) friends and made some new friends. It was surreal and @#$%# years since I walked those halls!! In promoting my cookbook, 'MaMa Mia Cucina', the sample prepared for tasting was an Italian Cherry sponge-cake…Yummmmmm! Within the past few days, I have received calls, messages and requests for the recipe (for those of you who do not have the cookbook). If you look closely, you will see the HEARTS! So…here you go!
Enjoy:)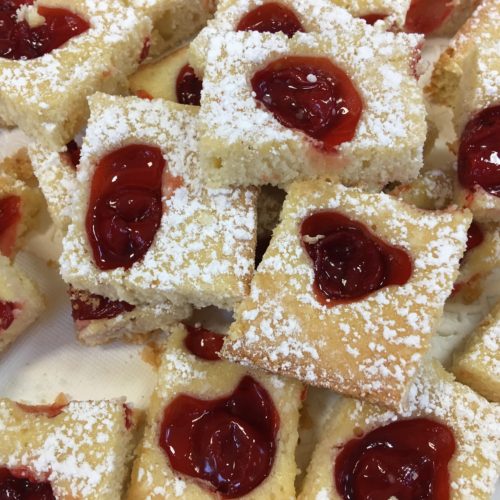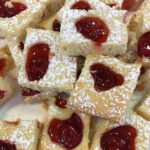 Ingredients
8

Tablespoon

unsalted butter

(1 stick)

1-1/2

cup

sugar

4

eggs

large

2

cups

cake flour

1

Tablespoon

vanilla extract

1-1/2

teaspoon

almond extract

15-oz.

can

cherry pie filling
Instructions
Pre-heat oven to 350 degrees. Blend butter and sugar together, adding eggs, one-at-a-time. Beat completely, adding flour and flavorings. Blend well and spread. into a greased 15 x 10 x 2-inch jellyroll pan. With a knife, score 1-inch vertical lines into the batter and then 1-inch horizontal lines into the batter. It will look like a checkerboard. Carefully place a teaspoon of cherry with filling into the center of each square inch. Bake at 350 degrees for approximately 30 minutes. Cool and cut into square-inch sections, dust with confectioners' sugar and serve.

Easy!
Recipe Notes
Note:  If you prefer not to have a 'crusted' edge, use a parchment paper lined pan, or cut off the edges.
The flour in this recipe can be easily adapted to a gluten-free flour.