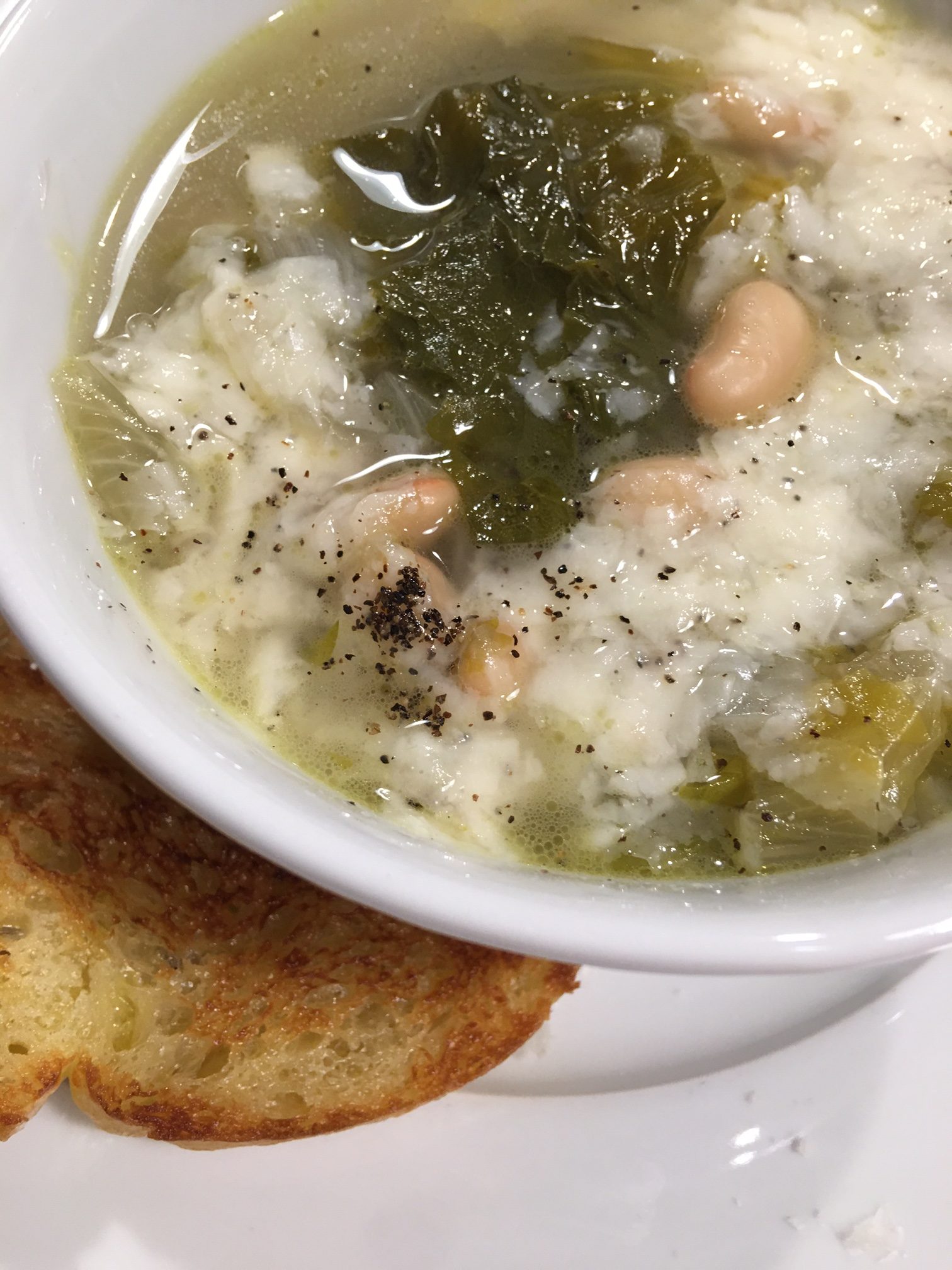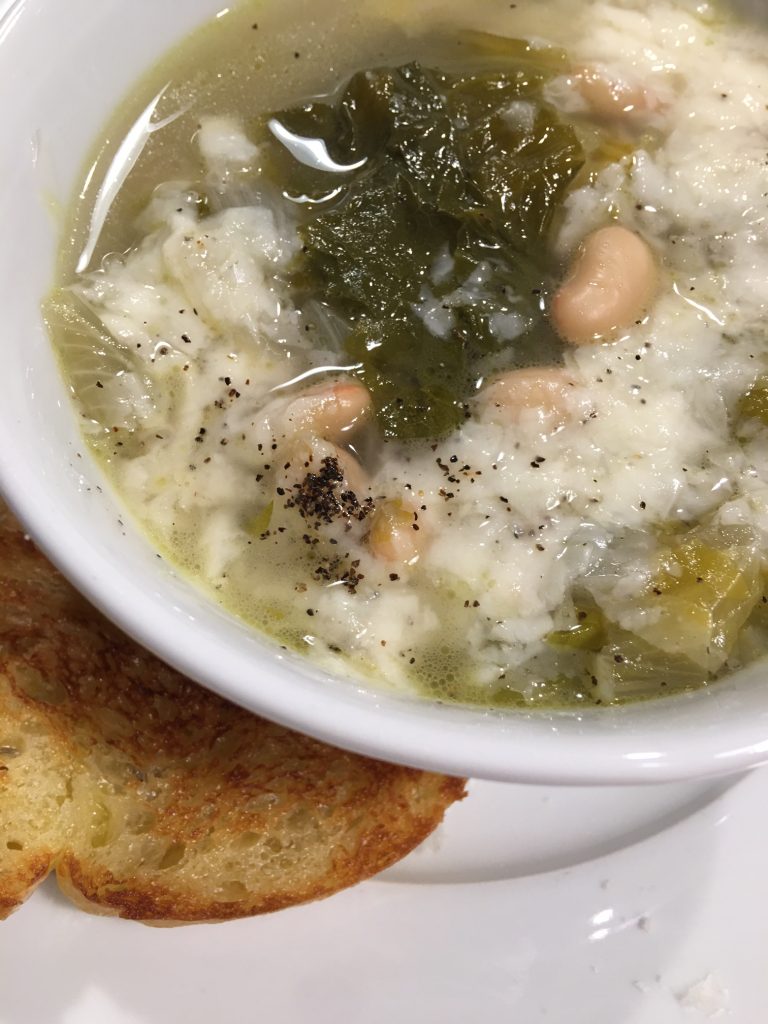 Greens and Beans – is a dish that is quite simple in flavor, ingredients and packed with nutrition. I remember my grandmother, 'Noni', preparing many large pot meals and this was one of them. I have scaled the recipe back in comparison with uncompromising flavor, which has been savored and enjoyed for generations.
When served with a fresh loaf of crusty Italian bread, especially on a cold winter's day…need I say more? Feel free to add more crushed red pepper flakes for those cold days, too. That'll kick up the heat!
I would say THE most important step in preparing this recipe is ensuring that the escarole is washed well and rid of all sand and dirt. And, also that it is simmered slow and cooked well. I once ordered escarole in a fine restaurant and the escarole was 'sandy'. Needless to say, I stopped on my first bite.
We begin with the washing X3 and then…with a good, sharp chef knife and cutting board, start chopping. It looks like a lot of greens as you begin filling up the stock pot, but they will cook down. You also want a good stock pot with a nicely-fitting lid, which is a good investment in your cooking if you're going to making soups and sauces.
The large sweet onions work well, and I use fresh garlic. If you would like to use dried beans, you can absolutely substitute cooked dried beans for the canned beans. It's also more economical, so you will have enough for another recipe. It will allow for another step to soak and cook the beans prior to adding them to the recipe. But…can be done. The canned beans are the 'shortcut' version. I'm sure my grandmother used the dried beans and fed at least 10 people from her one pot of Greens and Beans.
You also want a good quality olive oil and good quality Pecorino Romano cheese. Your recipe and your food is as good as the ingredients that you put into it. There is a minimal amount of ingredients here, so you want the best of the best – in preparation and flavor.
On the days when I have some time, I make homemade chicken stock and keep it in the freezer for recipes just like this one calling for chicken stock.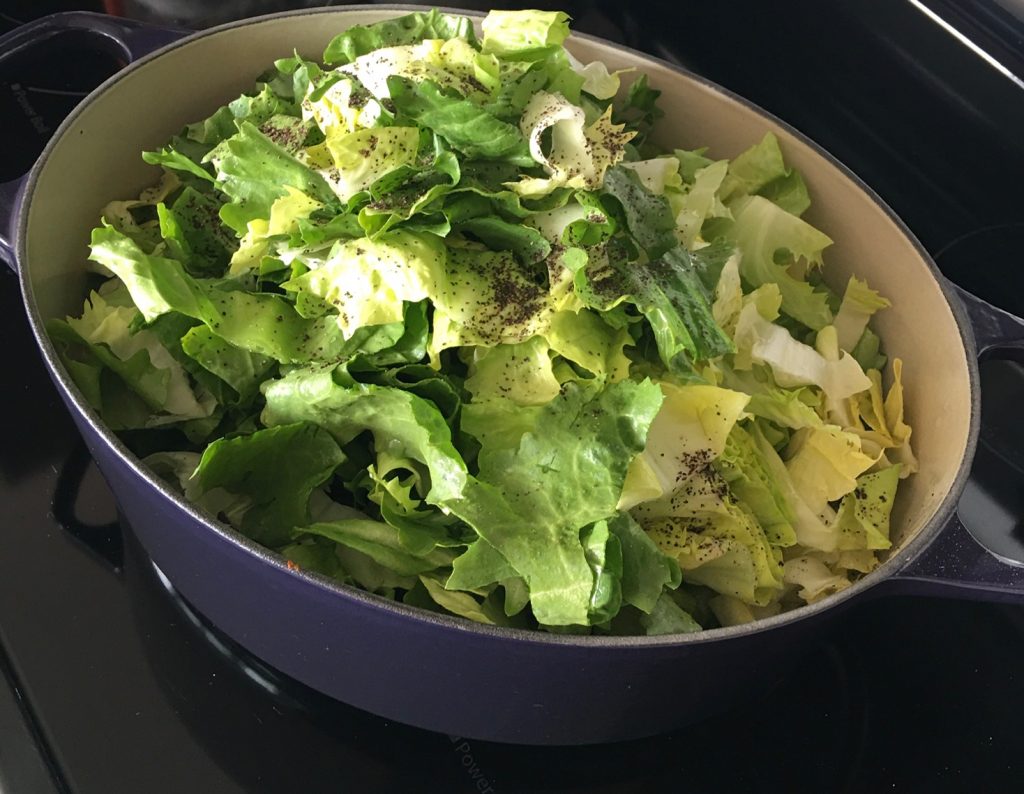 Shopping List:
2 Bunches of Fresh Escarole
1 large sweet onion
1 bulb of garlic
1 15 oz. can Navy Beans
24 oz. Chicken Stock
Pecorino Romano Cheese
Red Pepper Flakes
Extra Virgin Olive Oil
Salt & Pepper
Add on: Fresh Crusty Italian Bread
Italian Greens and Beans
Ingredients
2

bunches

Escarole, chopped

1

Onion, chopped

6

cloves

Garlic, minced

1

15 oz. can

Navy Beans

drained and rinsed

3

cups

Chicken Stock

1

teaspoon

Salt

1/2

teaspoon

Red Pepper Flakes

Pecorino Romano Cheese

for grating

Fresh Italian Bread

accompaniment
Instructions
Chop the escarole and thoroughly wash of all sand and dirt. In a large soup pot, add escarole, chicken stock, chopped onion, minced garlic, salt, red pepper.  Cover and slow-simmer for approximately 2-3 hours. The greens will cook down. Add the beans and simmer for another hour. Adjust the liquid, if necessary. Some prefer this 'soupy' and some prefer this with a little less liquid. The escarole should be cooked well.

Serve with a generous sprinkling of grated Pecorino Romano cheese. Spinach may also be substituted or incorporated along with the escarole.