A glorious day!
As I walked into the studios of WCNC-TV and greeted with hugs by Colleen Odegaard and the wonderful staff, I said, "What a great day! The sun is shining, it's the first day of Autumn, our Pope landed in the US (I Love this Pope!), and I'm here making my favorite Apple Cake." Does life get any better? It really was such a day… We had a lot of laughs during this segment, it was lighthearted and Colleen and Eugene are fabulous! And, I think everyone enjoyed the cake.
Coming from Pennsylvania I have treasured memories of spending those 'crisp days' with my daughters at the apple orchard picking apples, celebrating autumn, visiting with the animals, hayrides, homemade apple cider, and the highlight – apple cider donuts, rolled in cinnamon and sugar! When we returned home, I would begin making the pies, cakes, applesauce, etc… Enjoy a day in the orchard simply taking in the day, sharing, tasting and creating special memories of your own. There are so many varieties of apples to choose from when picking, eating and baking.
Food is like music, it sends you back in time with its fond aroma or the sound of its tune.
In this recipe for Apple Custard Cake Parisienne, which I have been preparing for many years, I prefer either Golden Delicious, Macintosh or Granny Smith apples. Or, a combination of the apples, which adds a nice variety of flavors. These are nice baking apples. The same goes for apple pies. I am also using cake flour in this recipe, as it is less glutenous and creates a lighter cake. Unrefined pure cane sugar is also preferred, as well as real sweet cream butter and a whole vanilla bean. It's about real, fresh, wholesome ingredients. This cake makes a nice gift, is easy to prepare and freezes well. Note: It is easier to slice if very cold / almost frozen. Then best served warm with ice cream, caramel sauce & cinnamon – delish!
To watch the video: http://www.wcnc.com/story/life/2015/09/23/apple-custard-cake-parisienne/72679572/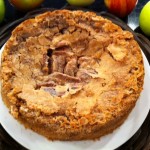 Apple Custard Cake Parisienne
This cake is prepared in a 9-inch springform pan.
It has a crust-like layer of cake on the bottom of the pan and running up the sides.
The filling is apples and then topped with a custard-like sauce.
Cake:
½ cup unsalted sweet cream butter, melted
1 cup unrefined cane sugar
2 large eggs, beaten
2 cups cake flour
2 teaspoons baking powder
½ teaspoon salt
Preheat oven to 350 degrees. Mix together the melted butter and sugar. Add the beaten eggs and combine well. Combine the baking powder, salt and flour and add to the wet ingredients and mix until it becomes a dough-like consistency. Press the dough into the bottom and up the sides of a 9-inch springform pan.
Apple Filling:
½ cup unrefined cane sugar
½ teaspoon cinnamon
8-10 Apples (Granny Smith or Golden Delicious), peeled, sliced and placed and arranged in the bottom of the pan
Sprinkle apples with the sugar, cinnamon and bake at 350 degrees for 1 hour and 15 minutes. Cover with foil during the last 30 minutes.
Custard Sauce:
1 cup sugar
½ cup unsalted sweet cream butter, melted
1 egg, beaten
1 vanilla bean, split and beans scraped
1 teaspoon cinnamon
Whisk together and pour the sauce on the apples after they have baked for 1 hour and 15 minutes. Return to the oven and bake for 20 minutes more. Remove from oven and cool slightly before serving. Top with ice cream or whipped cream. (Note: Easier to slice if very cold)
Can be frozen after completely cooled and removed from springform pan. Serves 8-12
My favorite apple cake! – Cynthia Ferich, Author, Private Chef / All Rights Reserved