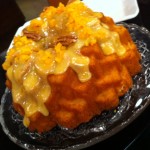 Happy Mother's Day! My thanks to WCNC-TV's Charlotte Today and lovely co-host, Colleen Odegaard. Our cooking segment, celebrating Mother's Day, my mom and grandmother (Noni) in baking their favorite "Apricot Cake" was sweetness, for sure, on many levels. My mom and Noni prepared this cake in a traditional bundt pan for the 'ladies' for their many coffee gatherings and 'coffee talks' throughout the years. It is a piece of nostalgia in my family history.
The Charlotte Today cooking segment was a cake demonstration of variations. My favorite is an individual dessert, prepared in a popover pan, which works quite well in this recipe for the pan depth. The cake is a combination pound cake and coffee cake, with a streusel running through the center of the cake. A reminder to use cake flour, as it contains less gluten, providing a lighter cake. I used apricot filling. You can also use apricot preserves, if you prefer sweeter. I personally like the combo of coconut and pecans, but you can combine one or the other.
Celebrating all who love, nourish and nurture us on this special day.
Bring the kids into the kitchen and bake up some Love for the special people who love, nourish and nurture you! Make it special…
View the Video HERE
Apricot Cake
Topping:
1/2 cup brown sugar
1/2 cup chopped nuts and/or 1/2 cup coconut
1/2 cup flour
1/4 cup butter, melted
Cake:
1-1/4 cups sugar
1/2 cup butter
8 oz package cream cheese
2 cups cake flour
2 teaspoons baking powder
1/2 teaspoon baking soda
2 eggs
1/2 cup milk
1 teaspoon vanilla
12 oz. jar/can of apricot filling
Preheat oven to 350 degrees. For topping ingredients, combine brown sugar, nuts, coconut, flour, and then combine with the butter. Set aside and prepare cake batter.
For the cake, cream sugar and shortening together and add the cream cheese. Beat and add dry ingredients with egg and milk. Add vanilla. Pour 1/2 of the batter in a greased tube/bundt pan. Spread 1/2 of a jar of apricot filling over the batter, and 1/2 of the topping over the filling. Repeat layers. Bake at 350 degrees for 1 to 1-1/4 hours. Cool and remove from pan.
My grandmother had this recipe copied many times throughout her notes ~ another of her favorites.
Cynthia Ferich – ©2007 CynthiaFerich
MaMa Mia Cucina ~ A Flavor of Good Food and Good Family
www.CynthiaCooks.com