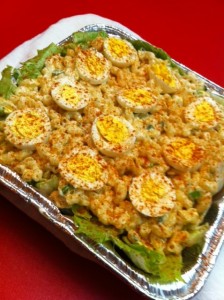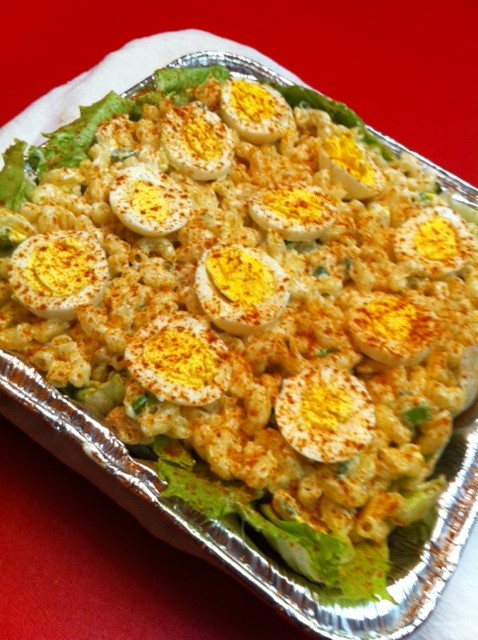 Franny's Macaroni Salad

(I did my best to replicate a family recipe. Here ya go…!)

1 pound elbow macaroni, cooked until very tender. Drain and rinse with cold water in a colander and let stand for 15 minutes

1 bunch green scallion washed and sliced. Slice the top root, removing and discarding. Toss and add the remaining sliced scallion to the macaroni

3 hard-boiled eggs, chopped

Dressing:

1 cup Hellman's original mayonnaise

3 Tablespoons sugar

3 Tablespoons Heinz white vinegar

1 teaspoon salt

½ teaspoon pepper

3 hard-boiled eggs, peeled and sliced, for garnish

Sprinkling of paprika for garnish

In a large mixing bowl, combine cooked & drained elbow macaroni, sliced scallions, 3-chopped hard-boiled eggs and combined dressing. Mix well. If too dry, add a little more mayonnaise and mix. Line your favorite bowl with lettuce and mound the macaroni salad in the bowl, smoothing the top. (Or, a disposable tin and off to the picnic!) Peel and slice remaining 3 hard-boiled eggs and place on the top of salad and sprinkle with paprika. Chill until cold and serve.

My sister-in-law, Fran Szuch, celebrated her 90th birthday this week as family and friends gathered to celebrate in her event. Franny and I became friends from the moment we met. We bonded. She welcomed me into the family before my wedding day and every day thereafter. I wore her gold necklace with a small pearl in the center as my 'something borrowed'. I am honored, as she is my daughter, Shannon's, Godmother. Franny is a mother, grandmother, great-grandmother, sister, sister-in-law, aunt, cousin, friend.

She loves to DANCE, her card club, her Church, ladyfriends, activities and shopping! She is kindness, beauty and love. Franny loves to tell her story of "Rosie the Riveter"… (She was), and it was, her moment in history.

I can see Franny walking into the family party carrying her macaroni salad that she made that same morning, in her same favorite green glass bowl that she served each time she prepared her salad, with her smiling face and her husband, Lie, by her side. She loves her family and a party…they were ready to celebrate!

I Love You, Franny… and 91 more wishes!!
Related articles across the web