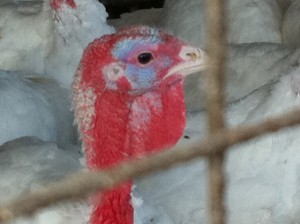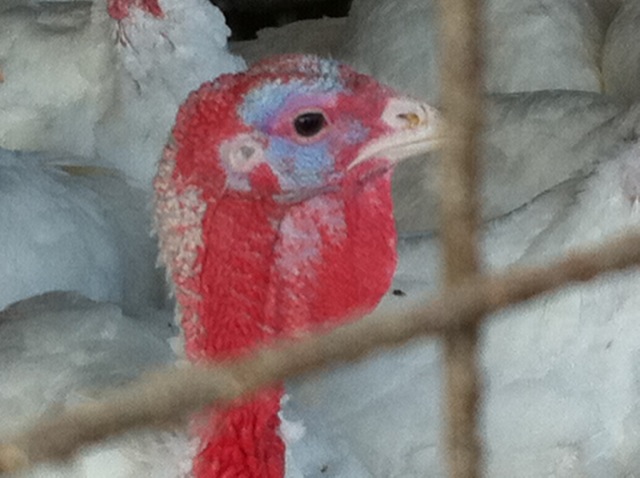 It was a beautiful sunny brisk autumn day during my visit to Pounds' Turkey Farm in Leechburg, Pennsylvania. Beverly Pounds, our gracious hostess, provided a tour of her family farm as we learned about the love and passion that goes into their successful family business. For three generations, the Pounds' family has been dedicated to offering their customers the very best. They have been a local favorite since 1935.
How do they do it? Their turkeys are raised on their family farm with lots of fresh air, clean water, sunshine and nutritious grains. They take special care of their birds ensuring quality to all who share in the bounty.
As a group of us gathered at their farm store prior to making the walk up to the turkeys, we first wiped our shoes with anit-bacterial wipes in an effort of eliminating any potential bacteria and illness to the turkeys.
On our way up we first visited the cattle. The Pounds' family also raises beef. I must say, it was quite pleasurable to watch the cattle roam the land as nature intended.
As we approached the turkey gathering, the birds greeted us, reacting to our visit. Evidently, turkeys like, and are attracted to visitors, as well as shiny and sparkling objects. Some shiny and sparkling objects also hang in the hen house as a distraction to the sometimes frustrated birds.
The Tom Turkeys are slightly larger than the Hens and enjoy opening their wings and 'strutting their stuff', as they say. The Hens have pink/red necks, while the Toms have some blue. I guess this is where the pink and the blue come in distinguishing the boys from the girls? Don't you just love nature! And…there really is a 'pecking order' in the world of turkeys. As geese know and understand the importance in flying in formation, the turkeys are also aware of their place and order in society. Animals, like children, teach us many important life lessons if we study them.
Our tour ended with a visit from a brave and special Hen who sat nicely for a visit from all who welcomed an opportunity to offer a special touch.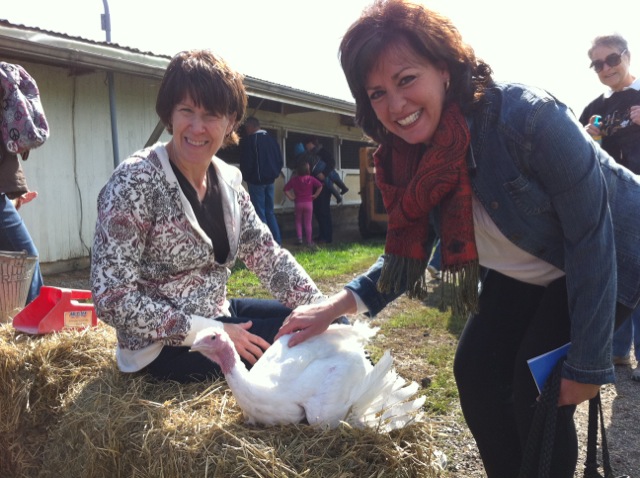 If you have not had the opportunity to share in an all-natural fed antibiotic and hormone- free turkey, you must! Pounds' Turkeys are available at Thanksgiving, Christmas and late summer. Their birds are free of added salts, oils and water/broth solutions. Frozen turkeys, as well as delicious turkey selections, are available all year. Personally, I am a big fan of their Turkey Pot Pies, which are freshly-made on the farm.
Place your order quickly, the celebrated holidays are around the corner!
Orders accepted at: 724-845-7661
Visit the Web: www.poundsturkeyfarm.com
For our family favorites of stuffing, apple pie and many side dishes, order your copy of MaMa Mia Cucina HERE.

HAPPY THANKSGIVING!