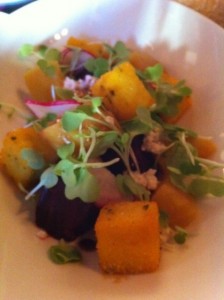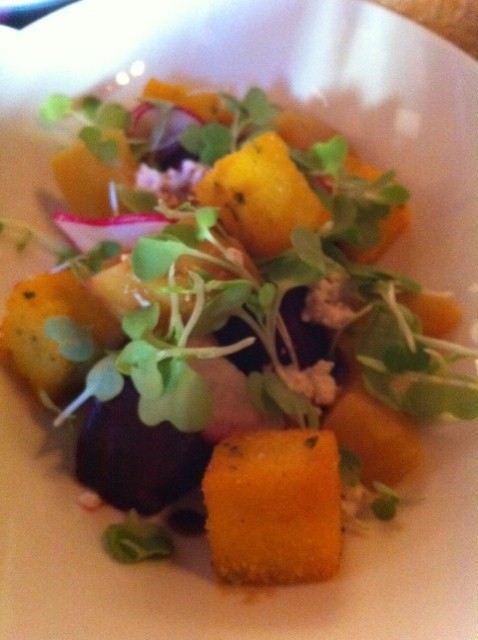 Week #8 of Summer Salads – Let's talk Beets!
Notable for their sweet, earthy flavor, beets have the highest sugar content on any vegetable, while remaining very low in calories. Beets are considered a root vegetable with two edible parts – the greens, which grow above the ground, and the beet 'bulb', which grows as 'the root'. Aside from the red beet, these earthy root vegetables are available in other hues of purple, pink, golden, white, and even striped. The 'tiny' baby radish-sized beet that is harvested too early, which are sometimes found in farmer's markets, are considered a delicacy. Enjoy this wonderfully sweet vegetable roasted and sliced with olive oil, salt and pepper, or enjoy the salad recipe below:
Roasted Beet, Arugula and Goat Cheese Salad
1 bunch of beets (usually 4-5 beets), roasted, peeled and chopped into bite-size pieces
2 cups of fresh organic arugula, washed and patted dry
4 radishes, thinly sliced
3/4 cup crumbled goat cheese
olive oil
sea salt
Corn Bread (optional)
Balsamic Vinaigrette
Wash beets and remove greens. Line a baking tray with foil, place the beets on the foil-lined pan, drizzle with olive oil and sea salt. Bake in a 375 degree oven for approximately 35-45 minutes (or, test by inserting a knife into the largest part of the beet – it should slide easily through the middle of the tender beet). Cool, peel, and chop the beets into small, bite-size squares.
Wash arugula and pat dry. Wash and thinly slice radishes. In a salad bowl, combine the chopped beets, radishes, arugula and goat cheese. Toss with a vinaigrette and plate.
Optional Note: Grill slices of cornbread by brushing each side with olive oil, place in a hot saute pan and grill each side until lightly golden brown. Serve alongside the beet salad. Makes for a nice presentation!
Balsamic Vinaigrette
1/2 cup extra-virgin olive oil
1/4 cup balsamic vinegar
Sea Salt and Freshly Ground Pepper to taste
Buon Appetito!
Cynthia