Prime Time Television @WBTV Studios this Friday with the pretty evening anchor, Brigada Mack. The cooking segment was a Red, White and Blue Spinach Salad using a couple of The Olive Tap's products.
Using The Olive Tap's Strawberry Balsamic in this salad dressing recipe, taken from my book, MaMa Mia Cucina, I only have one word to describe its wonderful flavor: OMG!
Memorial Day weekend is just a couple of weeks away. So… for all of the planners out there, here is a fresh, simple, seasonal and tasty salad more than acceptable for the vegetarians, gluten-free and carnivores, alike. It's all about options, ya' know! Mix it up, serve it up pretty with the protiens and cheeses on the side, if you like. Add a loaf of fresh bread (GF or not) a bottle of wine, lots of friends and family and everyone is happy celebrating the festivities and each other ~ Enjoy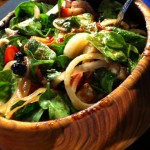 Red White & Blue Spinach Salad
4 cups torn spinach leaves
2 cups sliced strawberries
1 cup blueberries
1 small Vidalia onion peeled and sliced into rings
4 oz. gorgonzola, goat cheese or feta cheese, crumbled
(½ pound grilled chicken breast, shrimp or steak, optional protein)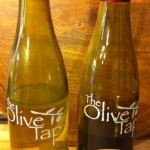 Dressing:
(recipe taken from MaMa Mia Cucina)
1/2 teaspoon salt and a grinding of freshly ground pepper
1 teaspoon paprika
1 garlic clove, minced
3 tablespoons sugar
1/2 cup extra-virgin olive oil (using ®The Olive Tap's Leccino EVOO for WBTV)
1/4 cup balsamic vinegar (using ®The Olive Tap's Strawberry Balsamic for WBTV)
A most delicious and festive salad for the upcoming 'red, white & blue' celebrations!