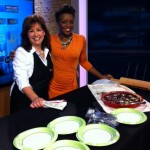 Happy Labor Day! Berry Pie with a Whole Wheat Vodka Pastry Crust
Yes, that's right, whole wheat Vodka pastry crust! And, they loved and ate every last bite at the WBTV Charlotte studios on Labor Day this morning. My thanks to anchors Christine Sperow and John Carter!
The BEST part of my cooking, whether for family, friends, or colleagues is the 'YUM' and 'SMILE' from each and every-one. It makes my passionate 'laboring' efforts worthwhile – I love it! So, I thank you, my friends, at WBTV, Charlotte, for the opportunity to share my 'laboring' with you this morning and to all of you – our viewers, for tuning in.
A step-by step instruction of a whole wheat pastry crust for my Berry Pie below.
What makes the crust especially flaky? Vodka – Straight up! You can mix half ice water and half vodka, if you like. In this recipe, I used all vodka, chilled. The vodka/alcohol will bake off and you will not taste it in the finished pastry.
As a cooking tip, after the dough is mixed, refrigerate until cold and it will be easier to work with. Roll out your dough and freeze. Get out your dough with cookie cutters and cut out shapes with the frozen dough to decorate the top of your pie. Festive.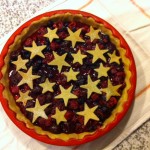 Whole Wheat Pastry Pie Crust – Makes one 10-inch double pie crust
1-1/2 cup whole wheat pastry flour (plus a little more for dusting)
2 Tablespoons unrefined cane sugar
½ teaspoon salt
¾ cup unsalted butter, cold (1-1/2 sticks)
1/3 cup vodka, cold
Mix together the flour, sugar and salt. Cube butter in small pieces and cut in with a pastry cutter until the pastry is in the texture of small peas. Add the cold vodka until wet and well-combined. Try not to handle too much. Split into 2 sections and refrigerated and let rest for at least 30 minutes.
VIEW THE VIDEO COOKING SEGMENT: https://www.youtube.com/watch?v=mfA7LO-wDbM
Berry Filling
5 Cups mixed berries – strawberries, raspberries, blueberries, blackberries
¼ cup corn starch
¾ cup unrefined cane sugar (plus 2 Tablespoons for sprinkling on top of unbaked pie)
½ teaspoon salt
1 teaspoon pure vanilla extract
Mix corn starch, sugar and salt together. Add berries, vanilla extract, mix well and set aside.
Roll out one half of the cold pastry between two sheets of wax paper or parchment paper to extend the size of your pie plate by approximately ½ inch. Remove the top half of the wax paper and flip on the pie plate. Remove the second sheet of wax paper. Fill with berry filling.
Roll the second sheet of cold pastry and cut out 'stars'. Place the stars to create the top of the pie crust.
Can also be made into mini-pies.
Bake in a pre-heated 350-degree oven for approximately 30-45 minutes, until the crust is golden brown. Oven temps vary.