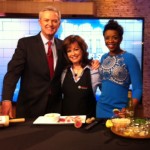 New Year * New Health * New Resolutions!
Welcome 2016 and my first cooking segment of the NEW year. The focus is on health, freshness, the WOW! factor and an introduction to a new veggie to the repertoire.
The 'Watermelon Radish' is a veggie I included in my holiday veggie platters and it captivated each guest. It resembles a watermelon, pretty in 'pink' and is a slightly milder radish among the radish family.
We love 'pretty', we like WOW! and we like delicious. And then…we also want it healthy! This recipe has it all and is so-so easy to prepare in minutes. It is fresh, naturally gluten-free, dairy, soy and nut free and prepared with the most delicious olive oil from The Olive Tap – Sophia's blend, to be precise. Add 'new' to your crudité platter, bring along to a tailgate or home party and WOW! your family & friends.
Thank you, my friends at CBS / WBTV studios, John Carter, Christine Sperow and to you, the viewers, who take something away from our cooking segment broadcasting.
I wish you health, wealth, good cooking, delicious olive oil and best wishes in the coming year. Enjoy!
View the Cooking Segment Video: HERE
White Bean Dip with Watermelon Radishes
2 cups white beans (northern, navy or cannellini), canned, rinsed and drained (or) dried cooked beans
¼ cup ®The Olive Tap's Sophia's Blend extra-virgin olive oil
1 cup fresh Italian flat-leaf parsley, chopped
¼ cup fresh basil, chopped
2 whole green onions, chopped
½ teaspoon red pepper flakes
Juice of 1 whole lemon
Zest of 1 whole lemon
½ teaspoon salt
In a small food processor, blend all ingredients together until smooth. Chill for at least 1 hour, marrying the flavors.
Slice watermelon radishes and serve with the chilled bean dip, as a cracker or bread replacement.
A fresh, spicy, healthy game-day dip, or everyday snack, naturally gluten-free and dairy-free, as demonstrated on CBS-WBTV Charlotte, NC.
Cynthia Ferich
Author, MaMa Mia Cucina
Private Chef, Culinary Educator, Public Speaker
©All rights reserved 2016