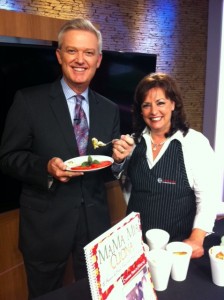 What to do with all of those summer zucchini?! was this morning's cooking segment @WBTV Charlotte, North Carolina with news anchor, John Carter. I love this team of news reporters and enjoy feeding them and sharing in the conversation and laughs behind the scenes after the segment. Isn't that some of what food is all about? Food brings people together – our common ground – our connectedness.
Give this recipe a try. It is one I go-to over and over again. The recipe is taken from my beloved MaMa Mia Cucina and have been preparing it for my family for many years and is quite the versatile dish. With a few ingredients, you can whip this up in no time! Call the kids to help and teach them how to chop veggies, whisk eggs and then hand them a wooden spoon to fold it all together. Your kitchen will smell delightful and maybe they will like another green veggie?!!
The original recipe (in the cookbook) calls for one cup of baking mix. I have included a recipe, below, to make your own baking mix and also a gluten-free baking mix for those who are have gluten sensitivities.
Watch the Cooking Segment: https://www.youtube.com/watch?v=usx8iy6j614
1 cup baking mix*
½ cup Romano cheese, grated
½ teaspoon oregano
½ teaspoon salt
¼ teaspoon garlic powder
½ cup olive oil
dash of pepper
½ cup onion, minced
4 eggs, well-beaten
3 cups of zucchini, washed, dried, and thinly sliced
Thoroughly mix all ingredients, except zucchini, combining the batter. Fold in zucchini slices and pour mixture into a greased 9 x 13 x 2 inch pan (brushed with olive oil).
Bake at 350 degrees for approximately 40 minutes. Let rest for at least 10 minutes. Cut into small squares with a sharp knife and serve warm.
Page 18 ~ MaMa Mia Cucina
Note: May also be prepared in two 8-inch pie plates and served as a torta or quiche. Add a salad, and you have an easy, affordable brunch, lunch, or dinner.
Cut smaller squares and serve as an appetizer.
To make your own baking mix:
*Combine: 1 cup of flour, 1-1/2 tsp baking powder, ¼ tsp. salt and 1 Tbls. olive oil
Gluten-free alternative:
*Substitute the 1 cup of baking mix:
Combine: ¾ cup of rice flour + 1 teaspoon baking powder + ¼ tsp salt + ½ cup water + 1 Tbls. olive oil.
Compliments
All Rights Reserved
Cynthia Ferich
www.CynthiaCooks.com
www.MaMaMiaCucina.com