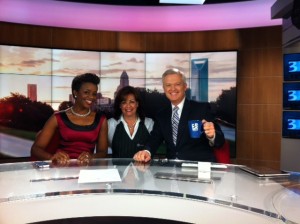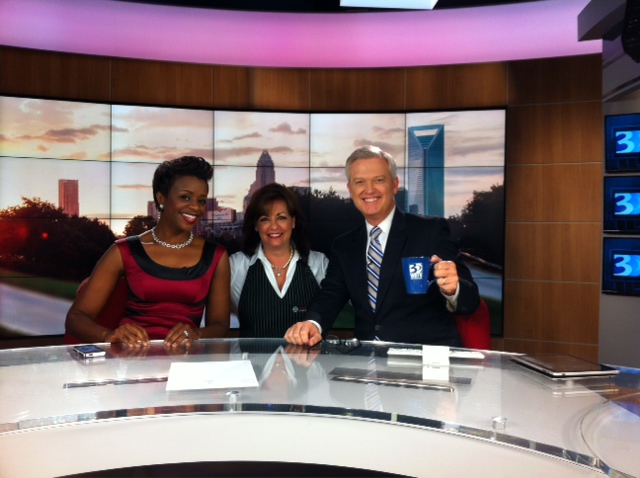 I fondly remember watching my grandmother, 'Noni', making Biscotti, a twice-baked cookie. They were on every holiday table. My grandfather loved Biscotti, flavored with anise, and I remember her making them just for his morning coffee.
So…, when WBTV's Susan Hancock asked me to demonstrate Biscotti for our next cooking segment, needless to say, I was delighted! It brought me back to not only my childhood kitchens with my Noni, but my own kitchen and special moments and memories with my daughters as they were growing up. They loved Biscotti with mini-chocolate chips and vanilla. So, while I kept the recipe, I did 'tweak' it over the years and made it my own.
For my cooking segment on WBTV, I 'tweaked' my recipe a third time when The Olive Tap offered to sponsor my cooking segment. Through the recipe testing, the butter was replaced with their buttery olive oil, available at The Olive Tap. Much to my delight, the Biscotti were delicious! Being that olive oil is an unsaturated fat, it is a 'healthier' fat. I am quite pleased with the replacement and the results.
Thank You to my friends at WBTV, Charlotte, North Carolina for the opportunity to share my family's recipe with your viewers!
And, Thank You, Olive Tap for your wonderful products!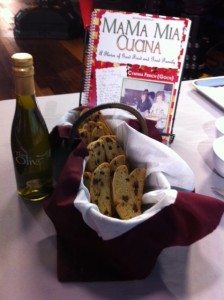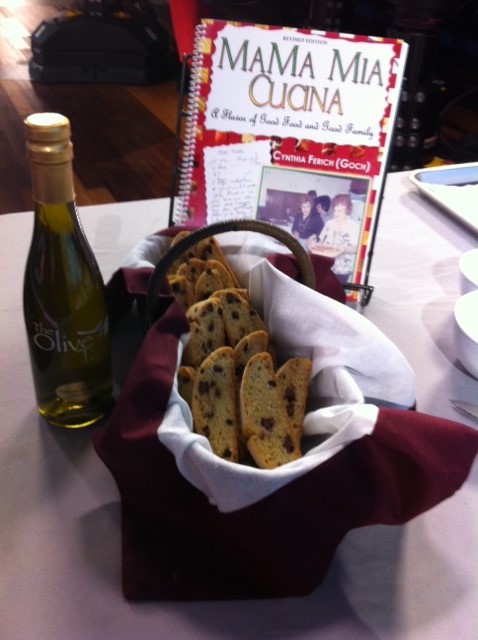 Chocolate Chip Biscotti
1/2 cup butter (WBTV demo substitution – ½ cup ®Olive Tap 'Buttery Olive Oil')
3/4 cups sugar
2 large eggs
*2 cups flour
1-1/2 teaspoons baking powder
1/4 teaspoon salt
1 teaspoon vanilla
3/4 cup mini-chocolate chips
Sugar for sprinkling
Preheat oven to 350 degrees. Cream butter and sugar together, and add eggs, one-at-a-time. Add vanilla and mix. Combine dry ingredients and stir into the creamed mixture. Add chocolate chips and stir.
Divide dough in half and flour a work surface. Roll each half into an 8-inch log. Place on a lightly greased cookie sheet, sprinkle generously with sugar, and bake for 25-35 minutes, until baked through and golden brown (oven temperatures vary). Remove baking pan from oven and allow loaves to cool.
Cut loaves with a sharp serrated knife into 1-inch slices and place cut-side down on a cookie sheet. Bake for 8-12 minutes at 350 degrees on each side until lightly browned on each side. Turn carefully, not to crumble.
Each recipe makes approximately 1 to 1-1/2 dozen cookies.
This version of Biscotti is our family favorite! They don't last very long, and I usually double (or triple) the recipe!
*Note: Gluten-free flour can be substituted as a gluten-free alternative
Compliments: Cynthia Ferich, Author, Culinary Educator, Public Speaker, Private Chef Services
'Biscotti' Recipe taken from MaMa Mia Cucina ~ A Flavor of Good Food and Good Family
Phone: 980-292-1255
15235 John J. Delaney Drive, Suite E
Charlotte, NC 28277
980-237-3573