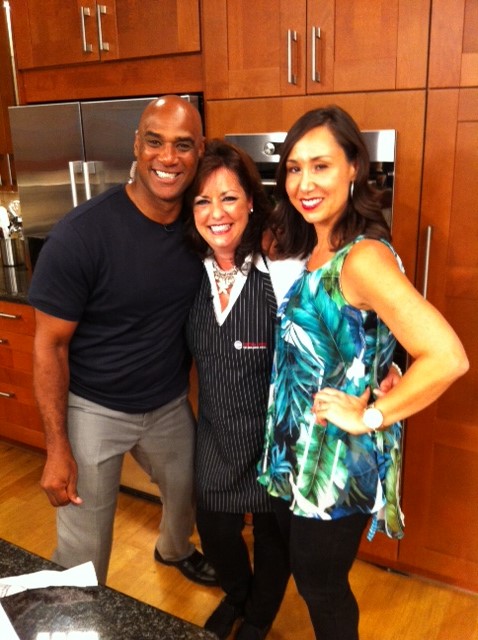 One of my favorite sandwiches – Roasted Red Peppers on an Italian Roll with Provolone Cheese – YUM – Delish!
Once again, on Tuesday, July 14, 2015, I had the great opportunity to join my friends @WCNC-TV on Charlotte Today to demonstrate just that – "How-To Roast Red Peppers" and then… serve up several dishes using the roasted peppers. You guessed it – my favorite 'Italian Veggie' sandwich was on the list!
A great time in the studios with Colleen Odegaard and Eugene Robinson sharing in some fun, laughter, and, of course, Food!
Following the demonstration on actually roasting the red peppers, they were served with slices of crostini or bread slices for a quick snack or a nice summer appetizer with family and friends. One of the gluten-free options demonstrated was served with belgian endive as a bread substitution, which makes a nice 'dipper'. A yellow pepper was filled with the roasted reds, which makes a nice presentation, as well. The second gluten-free option was a rice salad of brown rice, roasted reds, chopped scallions, fresh lemon juice and EVOO served in cups of radicchio – pretty! Quinoa or other grains may be substituted for the brown rice. Tune into the video and watch for yourself:
http://www.wcnc.com/story/life/2015/07/14/roasted-red-peppers/30131103/
– Enjoy!
Recipe taken from MaMa Mia Cucina (page 108) all rights reserved
Roasted Red Peppers
6 large red bell peppers
1/2 cup extra-virgin olive oil
1/2 cup fresh Italian flat-leaf parsley, chopped
4 cloves garlic, peeled and minced
salt and pepper to taste
*Wash peppers, pat dry, and place on oven rack. (I place a sheet of foil on the rack first to catch the drippings). Turn on broiler and broil until the skin turns black. Continue to rotate the pepper until it is all black. Remove from oven and place in a bowl, covered with plastic wrap. Set aside, and cool for at least one hour. Once the peppers have cooled, peel the skin off the peppers. Remove the seeds and tear or cut into strips.
In a large bowl, combine the oil, parsley, garlic, salt, pepper, and add the peppers. Mix well. For a stronger flavor, marinate for at least one day for the flavors to blend.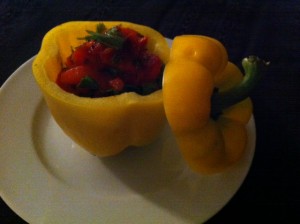 *Note: Peppers can be seeded and cut in half to broil rather than broiled whole.
To serve: Serve on crostini toasts, on Italian Bread, or with Belgium Endive for a gluten-free alternative.
For leftover peppers, warm the peppers in a sauté pan, add some beaten eggs and scramble until cooked. Place on a split Italian roll with provolone cheese and sliced garden-fresh tomato. Yum – Delish!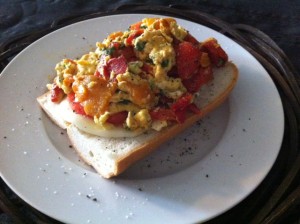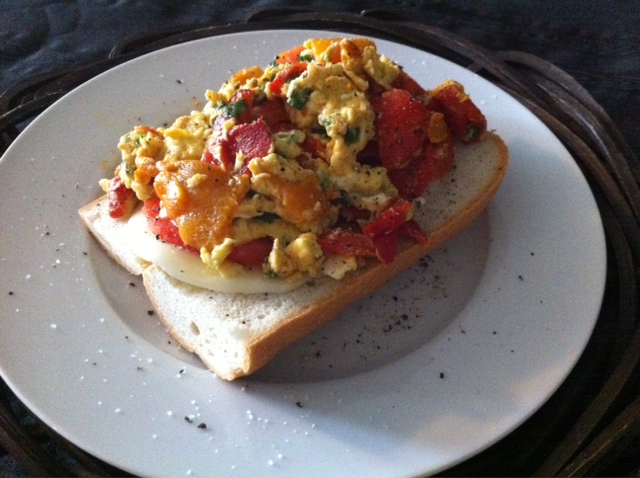 My grandfather loved to feast on roasted peppers. He roasted the peppers on the grill, prepared them with the marinade, and made a sandwich with fresh Italian bread. Who had time to wait for the flavors to blend? Afterwards, my grandmother became upset with him because he made a mess! This is my favorite way to eat roasted peppers, and my favorite sandwich!
Enjoy!