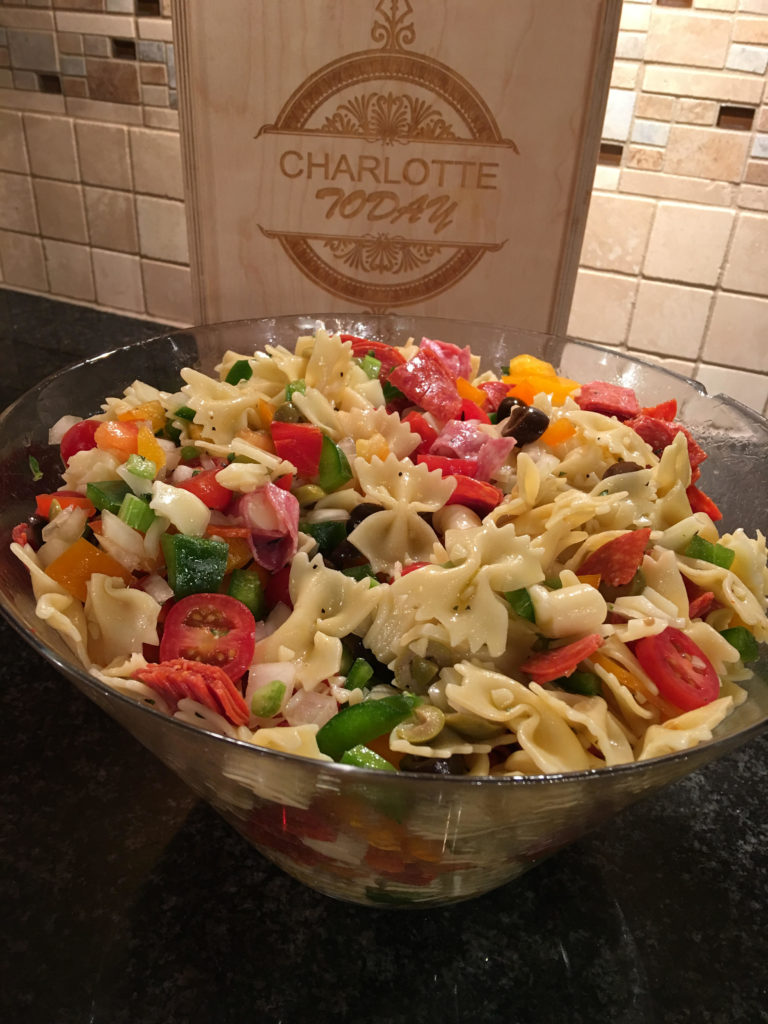 A 4th of July Pasta Salad recipe taken from my 'MaMa Mia Cucina' cookbook. I love this recipe, which was my grandmother's recipe, and a favorite for family gatherings. It's an antipasti with pasta tossed in the bowl. It makes a nice portion, so it's perfect for a crowd. Enjoy!
Thank you Eugene, Colleen and NBC's Charlotte Today Team! Love you all & Happy 4th 🙂
Bow Tie Pasta Salad
1 pound of bow tie pasta, cooked and cooled
½ cup sliced black olives
½ cup green pimento-stuffed olives, sliced
¼ pound provolone cheese, cut into small cubes
½ pound hard Italian salami, cut into small cubes
¼ pound pepperoni cheese, cut into small cubes
3 green peppers, washed, chopped, and seeds removed
1 stalk celery, washed and chopped
1 small onion, peeled and chopped
3 tomatoes, chopped OR 1-1/2 cup cherry or grape tomatoes
Dressing:
½ teaspoons each of salt & pepper, to taste
1 teaspoon oregano
1 tablespoon sugar
2/3 cup olive oil
½ cup white wine vinegar
Whisk together the dressing ingredients, and then combine all ingredients in a very large mixing bowl. Let the salad marinate for 24 hours and stir well before serving.
I remember this salad from outdoor family picnics and gatherings. It is a great summer salad, and a meal at that!
© 2011 All Rights Reserved Cynthia Ferich
MaMa Mia Cucina Cookbook