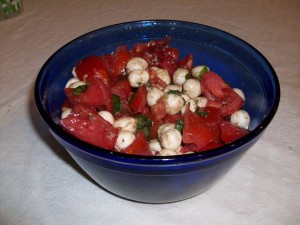 Celebrating the flavors of Summer Salads with the Red, White and Blue!
A great addition to your Fourth of July celebrations is The Tomato Mozzarella Salad – one of my all-time favs, it is easy to prepare, and I have not met anyone who does not enjoy this salad. Are you 'dipper?' Buy or make a crusty loaf of Italian bread, and soak up the wonderfully-flavored balsamic vinaigrette. The key to the success of this salad is 'FRESH!' Prepare using FRESH ingredients… FRESH ruby-ripe tomatoes from the garden, FRESH mozzarella, FRESH basil, and FRESH bread. Is your mouth watering yet??
Tomato Mozzarella Salad
Fresh garden tomatoes, washed, cored, and cut ( I personally prefer my tomatoes seeded and skinned )
Fresh Mozzarella balls, sliced or cubed
Fresh Basil, chopped (green or purple) *Note: Purple is pleasing to the eye for a Red, White and Blue theme
Balsamic Vinaigrette Salad Dressing (page 31 – "MaMa Mia Cucina ~ A Flavor of Good Food and Good Family"
Balsamic Salad Dressing
(Condimento Balsamico)
1/4 cup extra virgin olive oil
3 tablespoons balsamic vinegar
3 teaspoons sugar
1/2 teaspoon salt
1/4 teaspoon freshly ground black pepper
1/2 teaspoon paprika
1/2 teaspoon garlic salt
Combine ingredients and blend well.
For your favorite salads. Enjoy!
*Note: Prepare salad and serve at room temperature for the best flavor.
~ A note of thanks as Americans enjoy a summertime weekend in celebration and connecting with those that we love.
Let us remember those that defended, and continue defending our freedoms.
I wish one and all …freedoms of ~ Life ~ Liberty ~ and the Pursuit of Happiness.
Buon Appetito and Happy 4th of July !
~ Cynthia