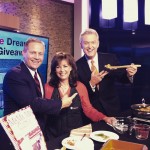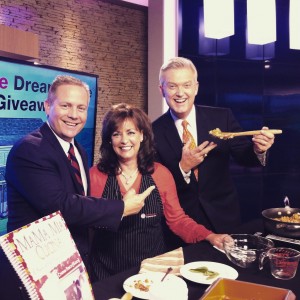 Let's talk Turkey stuffing and dressing! was the cooking segment topic this week on WBTV news, Charlotte, with Anchor, John Carter. Stuffing is what we 'stuff" our turkeys (or chickens, pork, mushrooms, etc…) with. Dressing, however, is what is baked in a casserole. Most folks I talk to have a traditional favorite that they prepare each year in celebration of this magnificent feast: Cornbread Dressing, Bread Stuffing and then there is also what's called a Filling, made with potatoes and bread.
For this recipe, you can substitute gluten-free bread cubes and gluten-free broth for a gluten-free stuffing/dressing. For a vegetarian version, simply eliminate the sausage and substitute vegetable broth for the chicken broth. Stuff mushrooms or squash, if you like, as well.
Stuffing & Dressing speak home, family, gatherings and a meal we look forward to each year. Thank YOU! WBTV and all of the viewers and readers out there for the opportunity to share with you, my family's traditional Italian Sausage Stuffing, handed down through the generations and packed with memories. Memories of the aromas that permeated our kitchens, the voices and laughter, the tables seated with loved ones and sometimes the empty chair and those that were and are forever missed.
However you spend your Thanksgiving holiday, remember to give thanks and to share in the bounty. Invite someone new to your table and share in tradition. ~Happy Thanksgiving!
To view the video, click HERE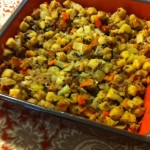 ITALIAN SAUSAGE STUFFING
1 pound of sweet sausage (without skin/bulk)
1 stick of butter
1 large onion, peeled and chopped
2 cups chopped celery
1 cup sliced mushrooms
1 small carrot, diced
1 tablespoon dried thyme, or 2 tablespoons fresh thyme
1 teaspoon dried sage, or 2 teaspoons fresh sage
1 tablespoon dried parsley, or 2 tablespoons of fresh-chopped parsley
1 teaspoon garlic salt
1 teaspoon salt
1/4 teaspoon pepper
*15 oz bag of unseasoned bread cubes or 1 large loaf of dried Italian bread, crusts removed
*1-1/2 cups homemade or canned chicken stock
In a skillet, crumble sausage and cook well. Drain fat and set aside. In a skillet, sauté́́e butter, onion, celery, mushrooms, and carrots until tender. In a large bowl, add vegetables, seasonings and cooked sausage, bread cubes and chicken broth. Combine well. Reserve 4 cups to stuff a 14-18 pound turkey. Place remaining stuffing in a buttered casserole pan. Cover and bake at 350 degrees for 45 minutes.
I remember Thanksgiving being more about the stuffing than about the turkey! This is our traditional family favorite ~ I hope you enjoy it.
*Notes: For a gluten-free option, use gluten-free bread cubes. If the stock is purchased, read the labels to ensure the stock is gluten-free. Great for stuffing mushrooms and squashes, too.
Cynthia Ferich
Author, Culinary Educator, Private Chef
MaMa Mia Cucina – Page 72 Sausage Stuffing