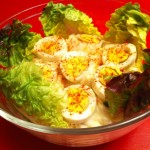 Let's take a delicious All-American potato salad recipe and infuse with red, white and blue. The potatoes are white, so we're covered! Garnish with purple basil, red leaf lettuce and/or paprika. For the table setting, bring in red white and blue napkins, placemats, tablecloths and candles. Create and celebrate with family and friends.
Switch up the traditional, and serve individual servings by placing a scoop of potato salad in an individual lettuce leaf, garnish and add individual potato salad servings to a large platter. Very pretty… And, either way, delish!
All-American Potato Salad
6-8 large red bliss potatoes
2 stalks of celery, diced
1 small Vidalia onion, diced
3 hard-boiled eggs, sliced
Boston lettuce leaves for garnish
Dressing
6 tablespoons mayonnaise
4 tablespoons sugar
2 tablespoons white vinegar
2 tablespoons light olive oil
1 teaspoon sea salt
White pepper to taste
Paprika for garnish
Wash and scrub potatoes, add to a large saucepan, cover potatoes completely with water and boil on medium heat until potatoes are cooked through and tender.
Add eggs to a small saucepan (so that they don't roll as they're cooking) and completely cover eggs with water and cook over medium heat until eggs are cooked – about 5 minutes. Drain and cool completely.
Meanwhile, as the potatoes and eggs are cooking, line a serving bowl with lettuce leaves that have been washed and patted dry with paper towels.
For the dressing, add mayonnaise, sugar, white vinegar, oil, salt and pepper to a small mixing bowl. Whisk all ingredients until well combined. Chill.
Drain potatoes in a colander and let cool slightly. Peel, and cube potatoes. In a large mixing bowl, add cubed potatoes, diced celery, onion and dressing. Mix well until all vegetables are well combined with dressing. Add to lettuce-lined serving bowl and add sliced hard-boiled eggs and a sprinkling of paprika for garnish. Chill for at least 4 hours before serving.
*Note:
For Vegans, omit the eggs and substitute mayonnaise for Vegan mayonnaise.