It's time to make the cookies!! When I wrote my cookbook, MaMa Mia Cucina back in 2007 and then revised it in 2011, through the many book signings, the one question I was asked was, 'what is your favorite recipe'? My response is the same today as it was then. I have two favorites. My grandmother's spaghetti sauce and pizzelle recipes. I love them both for two reasons: One, for what they represent to me, for the memories of all of the holidays and Sunday dinners. Most especially, for all of the LOVE that she put into making the sauces and cookies. And, two, because it's just delicious food. I gain so much pleasure from the feedback, smiles and stories that I receive.
Back in the day, my grandmother, 'Noni', made her pizzelles with a heavy pizzelle iron over a gas stove. She could only make one cookie at a time with the iron. When I was a little girl, I would hold her hands to help her and she would make me feel like I was doing all of the work, accomplishing such a task!
As I reflect on those days, she had the patience of a Saint! Today, when I make pizzelles, I set aside an entire day – one batch of gluten-free (a good quality of all-purpose GF flour may be substituted) for my daughter, two batches of almond for my family & friends and one batch of anise for my extended family. The house permeates with a wonderful aroma of almond and anise. It brings tears to my eyes. Tears of gratitude for all of the love and all that she taught me. There are also tears of sadness for how much I miss her.
This is a Christmas tradition that my whole family looks forward to in receiving their pizzelles. It is a gift that was given to me that I am able to pay forward. One day, I will be able to share more Christmas pizzelle stories from our kitchen with the next generations.
How about you? What type of traditions do you share?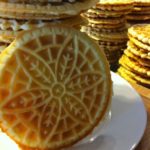 Italian Pizzelle Cookie Recipe
Set aside some time, they take a little. Well worth it!!
Ingredients
6

eggs

2-1/4

cups

sugar

1

cup

sweet unsalted butter, melted

1

Tablespoon

flavoring (vanilla, almond, lemon OR anise)

OR other flavoring of your choice

5

cups

flour

All purpose GF flour may be substituted

3

teaspoons

baking powder
Instructions
You will need a pizzelle waffle maker to make these waffle cookies. Plug in the iron to heat while you make the dough. The iron should be very hot.

With an electric mixer, beat eggs for 5 minutes until well beaten. Add sugar and beat for another 5 minutes until a pale yellow color. Add the cooled, melted butter and mix well. Add flavorings and flour and mix until blended. Gradually add baking powder last and mix until dough is well combined.

Drop a heaping teaspoon onto the middle of a hot pizzelle iron. Cooking time varies, and is determined by the iron that you are using and ranges from 30 seconds to 2 minutes. Cook to a golden brown. This recipe makes approximately 40 to 50 4-inch cookies