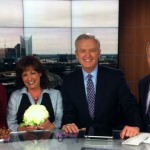 February is National 'Heart' Month and it's important to take care of our hearts as a defense against heart disease. In a time as we face many food choices, this cooking segment was appropriately chosen for those healthier food choices in support of our hearts.
Sponsored by The Olive Tap and joining forces with anchor, John Carter of CBS / WBTV, I delivered flowers – cauliflower flowers, that is. It was all the talk this morning. Inspired by so many different ways that cauliflower can be prepared as a substitute for some of our favorite carbohydrate-type foods, my recipe for Cauliflower Rice was a hit! Give it a try and don't forget the Roasted Garlic EVOO and fresh herbs!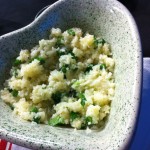 Cauliflower Rice
1 head of white cauliflower
3 Tablespoons of ®The Olive Tap's' Roasted Garlic EVOO
¼ cup chopped Italian flat-leaf parsley
2 green onions finely sliced (green & white parts)
Salt & Crushed Red Pepper, to taste
Wash your cauliflower and dry with paper towels. Stem-side up, slice the cauliflower from the middle of the stem, and then again in the opposite direction, creating 4 quarters. With a sharp knife cut off the 'curd' (the flower part of the vegetable without the stem pieces). After you slice off all of the curd, you're ready to prepare!
The easiest way to prepare is to put the pieces into a food processor and pulse until the pieces resemble the size of tiny rice, couscous or quinoa. If you do not have a food processor, a box grater will work with a little more effort. This will yield approximately 3 cups, depending on the size of the cauliflower.
In a saucepan with a couple of tablespoons of water, steam the cauliflower rice until tender, which only takes approximately 5 minutes or so.
Toss the steamed cauliflower with the EVOO, parsley, green onion and salt & pepper.
Easy!
Note: The cauliflower rice can also be served raw in salads, or as a replacement in some 'rice' recipes. It's a great way to add another veggie into your diet and cut down on carbs.
Suggestion: If this is new to your taste buds, to begin, try serving with ½ rice and ½ cauliflower rice, tossing together.
Recipe created for WBTV News and The Olive Tap / Sponsored
Cynthia Ferich
©All Rights Reserved 2016 Cynthia Ferich
Author, Private Chef, TV Chef
www.CynthiaCooks.com
www.MaMaMiaCucina.com