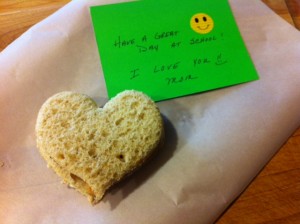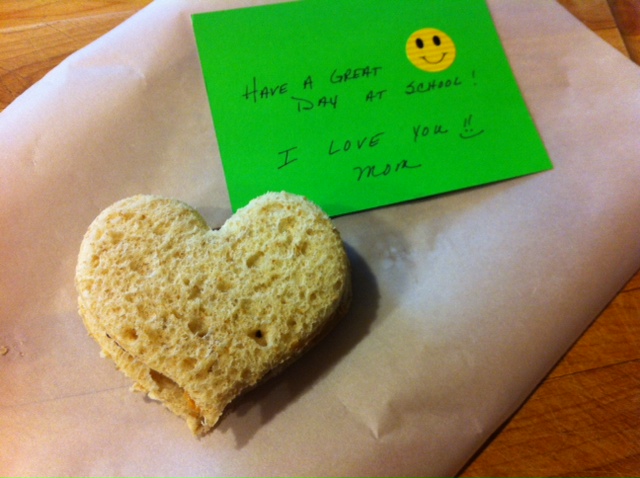 It's back-to-school! Hopefully all of our children have had an enjoyable, restful and playful summer before hitting the books, once again. It's an emotion that usually comes with mixed emotions. Some children (and parents) are ready for the school routine to begin again, while others are still hanging on to summertime.
I remember the days of getting my daughters ready and off to school. While they were getting dressed, I would slip in a 'love note' with their lunches to let them know I was wishing them a great day back to school. Hopefully, it brightened their days. I think any little thing(s) we can do for our children to make their days just a little easier and a little brighter is worth their weight in smiles!
I found that planning the first day (or two) of school the night before, from clothes to breakfast, lunch and packed backpacks alleviates stress. Send them off well-rested with a nice breakfast, hug, kiss and don't forget the lunch! Speaking of lunch, I'll share one of their favorites and one of my favorite memories… A cut-out PB&J (with a Love Note…)
Cut-Out Peanut Butter & Jelly Sandwich
2 Slices Frozen Whole Grain Bread
1 Tablespoon Nut Butter (I used Peanut Butter) ex: almond butter, cashew butter, sunflower butter, etc…
1 teaspoon Fruit Spread, Jelly or Jam
With your favorite cookie cutter, cut out your bread slices (it's easier when the bread is frozen), spread nut butter on one slice and fruit spread on the other. Put slices together and wrap.
Other Ideas:
Kids love finger foods and snack 'kid' sizes. Let's keep our kids healthy!
-Raisins, Craisins
-Grapes
-Oranges, Mango, Kiwi, Blueberries, Strawberries (cut them up and put them in a container) -don't forget the plastic fork or spoon!
-Homemade Granola Bars
-Carrot, Celery, Pepper Strips
-Wrap a banana and nut butter in a whole-grain Tortilla
-Wrap veggies in a whole-grain Tortilla
-Make homemade dressing (see recipe below)
-100% juice drinks – read labels
Ice Pack:
-Wet a regular-size sponge and freeze.
-Place the frozen sponge in a plastic bag and add to the lunch bag/box to keep it cool.
-The sponge will absorb the water as it thaws
-Kids can wipe their hands with the sponge
-Toss the sponge in the dishwasher to clean and disinfect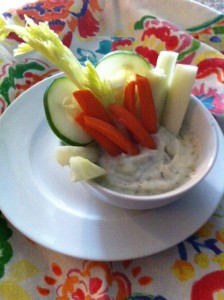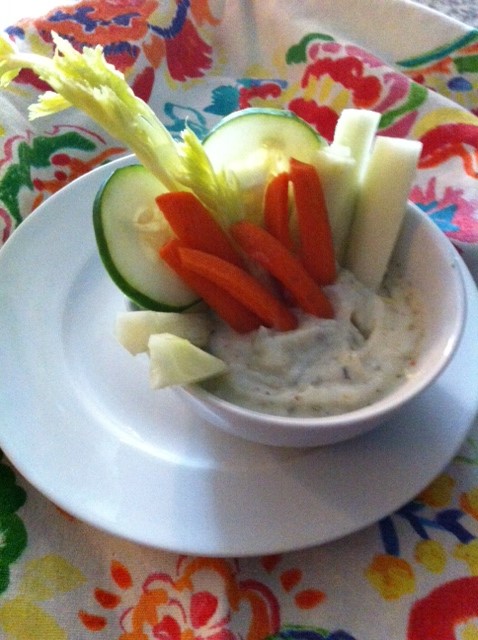 Homemade Ranch Dressing / Dip Recipe
1/2 cup plain Greek yogurt
1/2 teaspoon garlic powder
1/2 teaspoon seasoned salt
1/2 teaspoon Italian Herb blend
1/2 teaspoon Pizza Seasoning
Mix & Chill. Serve with favorite fresh vegges – carrots, celery, peppers, radishes, etc…