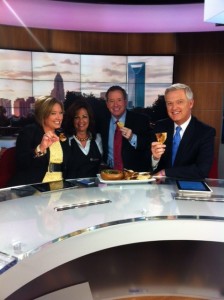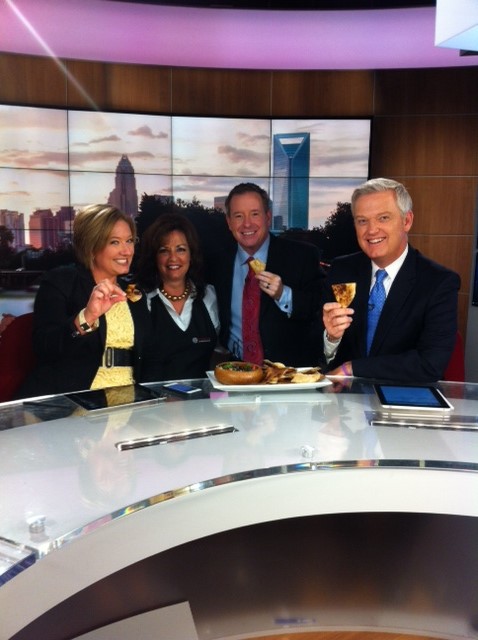 Chips, Chips, Chips! And, Fruit Salsa. I wish I had a huge bag of chips just for my friend, John Carter, anchor at WBTV, Charlotte. He and the Team loved them, as you can see in the photo.
This super-fun cooking segment had a purpose and a passion. Let's get our kids into the kitchen, cooking with some basic skills and healthy foods!
On the WBTV Cooking Segment Menu: Baked Whole Wheat Tortillia Chips and Fruit Salsa –
Sponsored by The Olive Tap
Video Link: https://www.youtube.com/watch?v=tKvFO10jpXQ
KIDS COOK Healthy Snacks!
Fruit Salsa with Whole Wheat Baked Tortilla Chips
½ cup, each, of favorite fruits, chopped – to equal 3 cups of chopped fruit
(Suggestions: kiwi, grapes, blueberries, mango, peaches, plums, strawberries, raspberries, oranges, apples, pears, bananas, cherries)
1 tablespoon of freshly chopped cilantro
1 whole scallion, chopped
1 tablespoon honey
1 tablespoon freshly squeezed lime juice (you may substitute lemon or orange juice)
In a small bowl, combine ingredients and set aside.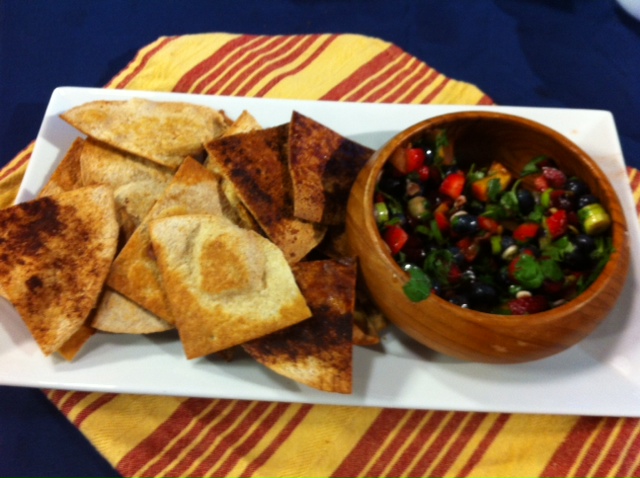 Baked Tortilla Chips
Preheat oven to 400 degrees.
Cut each whole wheat tortilla round into 4 or 8 pieces, (cutting as pie slices).
Brush each wedge with light olive oil (Olive Tap Buttery Olive Oil Sponsored) and sprinkle with sugar and cinnamon, to taste.
Layer the wedges on a baking sheet, lined with parchment paper and bake at 400 degrees until lightly brown, approximately 5 to 7 minutes.
Dip into the fruit salsa…enjoy!
Note: A great snack, party food and after-school snack for the kids!