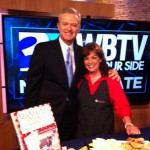 It's that time of year! Excitement, shopping, connecting with friends and family, a to-do list times 10, and you're invited to a party with appetizer in hand. No worries, this super, super easy appetizer is one of my go-to's and family favorites. With a few basic ingredients, you can have this prepped, baked and ready-to-go in less than an hour! Anchor, John Carter and friends at WBTV studios, Charlotte, loved it and we had a great time presenting it to you, our viewers. Enjoy!
View the WBTV Video HERE
HOT ARTICHOKE DIP
14 oz. can of artichoke hearts, drained and rinsed
or 14 oz. frozen artichoke hearts, thawed and drained
2/3 cup grated Parmesan cheese
2/3 cup mayonnaise
1/3 cup light cream
2 tablespoons chopped green pepper
1 tablespoon chopped pimento
Coarsely chop artichoke hearts, and set aside. In a small bowl, combine Parmesan cheese, mayonnaise and cream. Mix well. Stir in green pepper, pimento and chopped artichokes into cream mixture. Mix together, and spoon mixture into an 8-inch baking dish. Bake at 325 degrees for 30 to 35 minutes. Serve hot with small, thin slices of crusty Italian bread, crostini or crackers.
A super-easy appetizer to prepare for your next dinner party, tailgate, or festive occasion.
Note(s): For a Gluten-free option, serve with Belgian endive or sliced peppers for dipping rather than bread. Or, serve with toasted triangle-cut gluten-free bread.
For a 'festive' presentation, decorate with red and green peppers or red and green roasted peppers, using small cookie cutters to decorate. One of the 'house favorites'.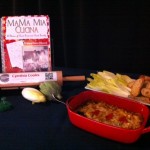 By:
Cynthia Ferich
Author, MaMa Mia Cucina, Recipe on Page 12
Culinary Educator, Private Chef
www.CynthiaCooks.com
www.MaMaMiaCucina.com
©All Rights Reserved