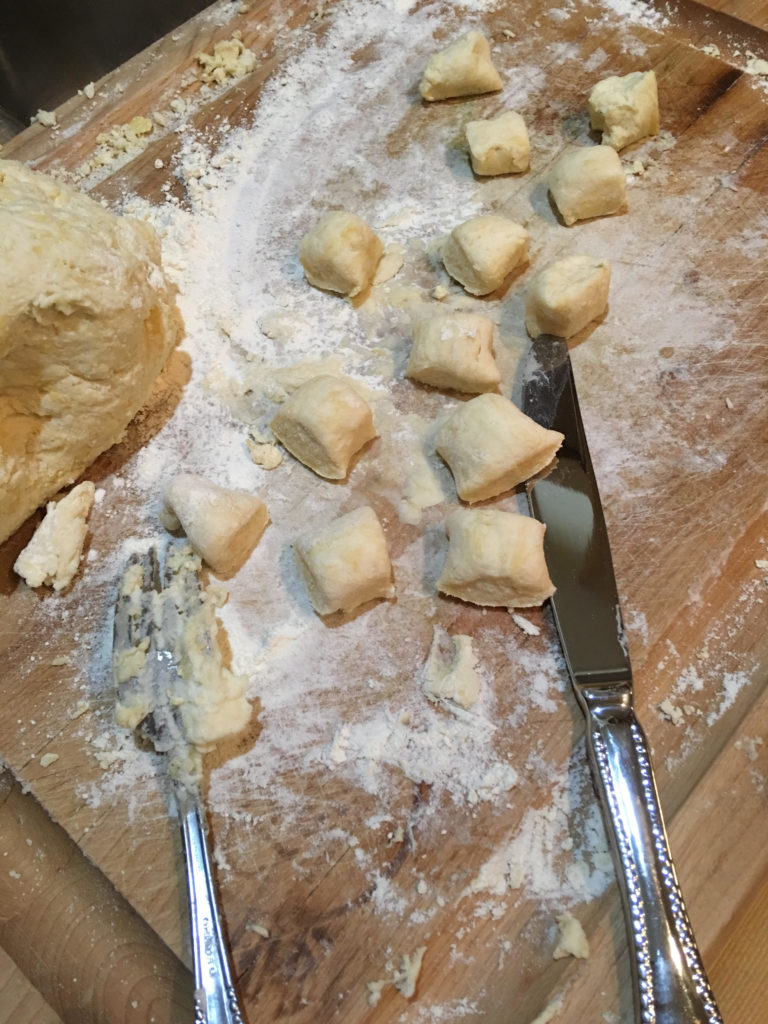 Cheese Gnocchi
(Gnocchi di Ricotta)
Flour
Romano Cheese
Ricotta Cheese
Eggs
Mound flour on a work surface, making a well in the center. Beat eggs in the center adding the cheese.
With a fork, or with your hands, slowly begin kneading the remaining flour (except for 1/2 cup) into the eggs while alternately adding the ricotta.
After the dough is completely kneaded together, let it rest for 15 minutes. The consistency of the dough should be sticky, as too much flour will make them tough. Dust a surface sprinkling the remaining 1/2 cup of flour, and separate the dough into 4 equal parts. Shape each into a roll the thickness of a small link sausage. Cut rolls into 1/2 inch pieces. Gently roll each piece on a flat grater or tines of a fork while depressing the other side with your index finger, slightly curling each gnocchi. Set the dumplings on a table or a platter, sprinkled with flour or semolina flour to prevent sticking, and let them set to dry, slightly (approximately 30 minutes). Boil 4 quarts of salted water and add dumplings, 30 at a time, not to over crowd. When dumplings are cooked and rise to the surface, remove with a slotted spoon and drain. Serve with your favorite sauce and cheese.
This was, without a doubt, the most difficult recipe for us to get just right on paper. When my grandmother cooked, she cooked by feel rather than measuring quantities. And, just as we thought we had it, she would throw in another handful of flour, or so!!!!! Ugg….
She stressed not to use too much flour because it is the 'lightness' of these gnocchi that makes them so delicious. We love them with melted butter, and a sprinkling of Pecorino Romano cheese, Tomato Sauce, butter & onions or EVOO garlic & herbs. We served them up in a variety of ways as we were writing this book and called the kids in to taste-test. It was a most fabulous day!
Get the Full Recipe Here