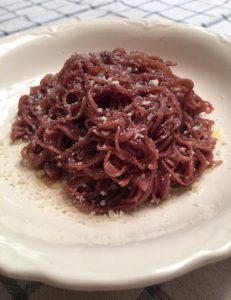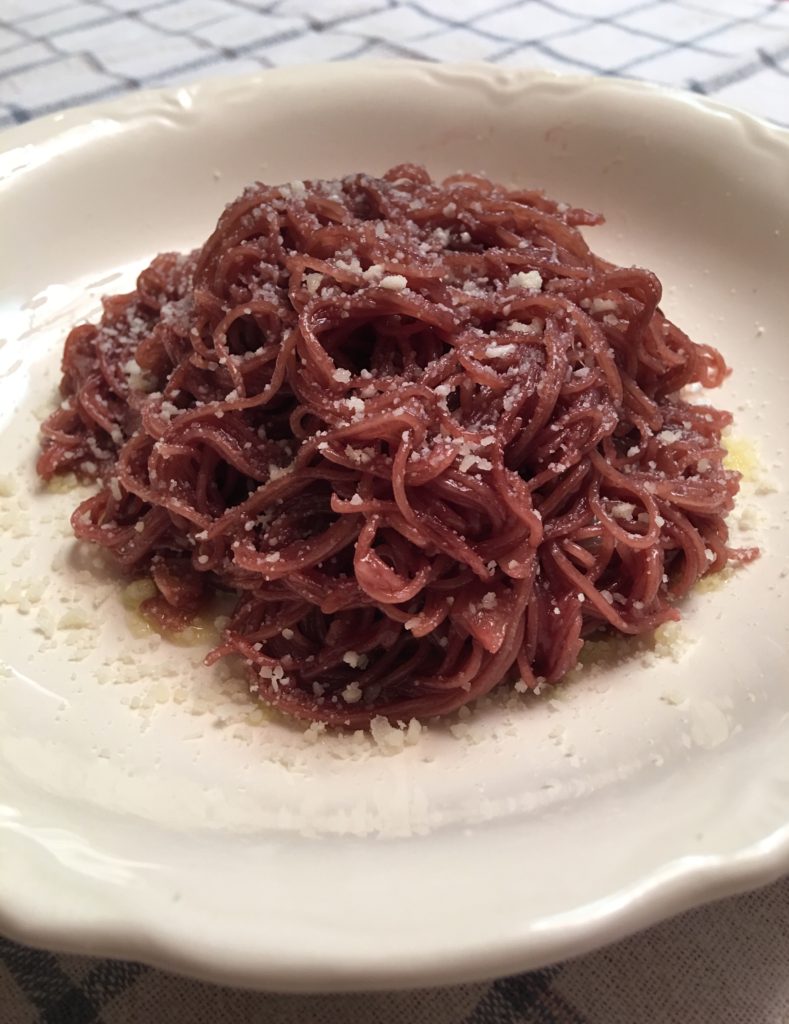 Drunken Spaghetti?! Yes, and it is delicious.
As demonstrated on KDKA's Pittsburgh Today Live, this dish is sweet onion and garlic cooked in extra-virgin olive oil and butter until tender and caramelized. Pour in the red wine, water, salt and bring to a boil. The spaghetti boils and cooks down, adding some crushed red pepper, to taste. We stir…we wait…not too long, though. The pasta (in this recipe, is angel hair) absorbs all of the liquid and it is ready to plate and enjoy with a few garnishes of shaved Parmesan and freshly chopped Italian flat-leaf parsley and/or freshly sliced basil.
The pasta absorbs the red wine, the alcohol cooks off and you are left with the sweetness of the grape.
Drunken Spaghetti VIDEO
½ pound angel hair pasta (gluten-free pasta may be substituted *see note)
1/2 cup extra virgin olive oil
4 Tablespoons unsalted butter
1 small sweet onion, peeled and chopped
5 cloves garlic, peeled and minced
2 cups red wine
1 cup water
¼ teaspoon salt
Pinch of crushed red pepper
Freshly shaved Parmesan
Roasted Pine Nuts (optional)
Fresh parsley and fresh basil
In a large deep skillet, heat olive oil and butter until the butter is melted. Add chopped onion and saute until caramelized, adding the garlic until lightly golden brown. Add the wine, water, salt and bring to a boil, adding the pasta. Cook on medium heat until all of the wine is absorbed and the pasta is cooked, stirring constantly – this will not take very long to cook. Toss in the crushed red pepper.
Plate the pasta and top with roasted pine nuts, chopped herbs and shaved Parmesan.
Makes 2 – 4 servings.
*Note: If using gluten-free pasta, half-cook pasta in boiling water and drain, then continue with recipe directions.
There you have it – dinner in less than 20 minutes! – Mangia
By: Cynthia Ferich