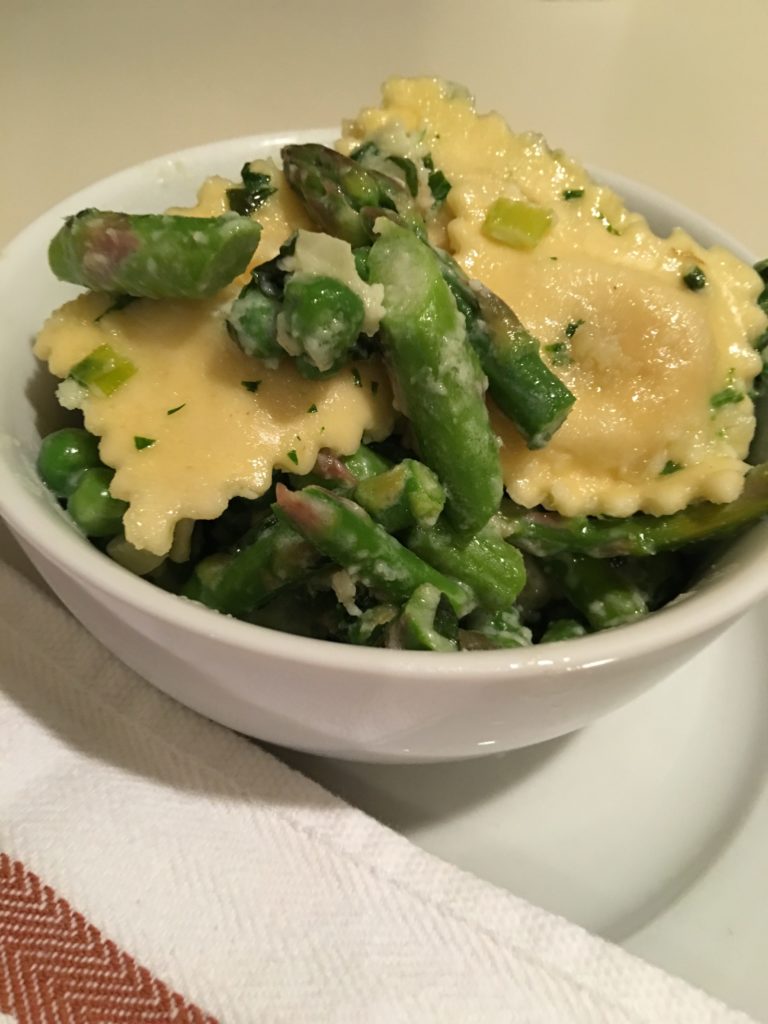 Ravioli Primavera
½ pound cheese ravioli, cooked and drained (pasta may be substituted)
2 Tbls. butter
1 Tbls. EVOO
1 pound of asparagus (keep tops in tact)
¾ cup young green peas
¼ cup green onion, white parts only, finely sliced
2 garlic cloves, finely minced
½ cup grated Romano cheese (Parmesan cheese may be substituted)
½ cup crème fraiche (Greek yogurt or sour cream may be substituted)
3 Tbls. finely chopped Italian flat-leaf parsley
2 Tbls. finely chopped fresh basil
½ teaspoon salt
A few flakes of crushed red pepper OR a sprinkle of black pepper
Cook the pasta while preparing the vegetables and sauce, below. Cook the pasta al dente and drain well of all water.
In a saucepan, melt the butter and add the EVOO. Add the asparagus, green onion, salt & pepper. Cook for about 2-3 minutes until cooked, but not mushy. Add the garlic and sauté for another minute or two until the garlic begins to turn golden (do not overcook or burn the garlic).
For the sauce, add the cheese, crème fraiche, herbs and combine. Add the peas and heat through.
In a large bowl. Toss the sauce over fresh, hot, drained pasta and serve immediately.
© 2017 Cynthia Ferich All Rights Reserved