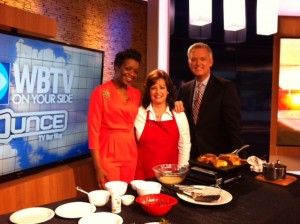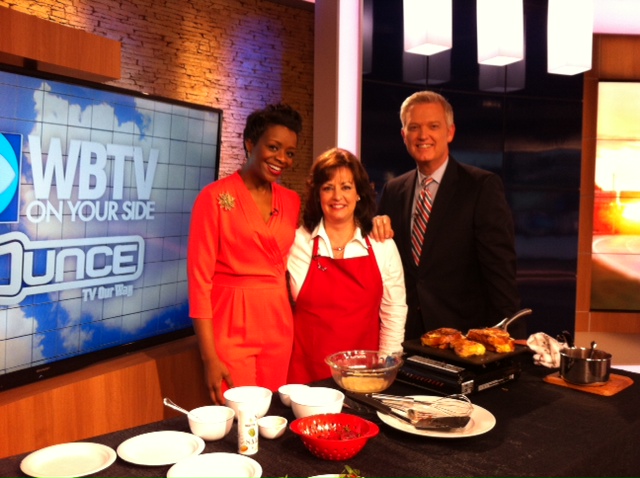 It was a gorgeous sunny morning as I prepped for a Mother's Day breakfast cooking segment at the CBS affiliate WBTV studio in Charlotte, North Carolina this morning. Wearing a necklace from my daughters and a red apron instead of my tradition chef coat, I was ready to celebrate Mother's Day!
I was greeted with smiling faces in every corner and eagerness as the aroma of decadent French toast permeated the studio. It was a pleasure to, once again, join WBTV's morning anchors, Christine Nelson and John Carter for my segment and I look forward to returning in a couple of weeks!
Happy Mother's Day!
STRAWBERRY CHEESE-STUFFED FRENCH TOAST
4 slices of Brioche bread or (gluten-free bread as an option or alternative)
2 large eggs
¾ cup coconut milk or whole milk
1 teaspoon pure vanilla extract
Pinch of salt
4 tablespoons mascarpone cheese, divided
4 tablespoons strawberry preserves, divided
2 tablespoons strawberry preserves for drizzle
Butter
Fresh strawberries for garnish
In a mixing bowl, combine eggs, milk, vanilla and salt. Mix ingredients until well blended and set aside.
Spread 1 tablespoon of mascarpone on one side of bread and 1 tablespoon of strawberry preserves on one side of another slice of bread. Put the two pieces of bread together (like a sandwich) with the filling in the middle.
Heat a griddle until hot (but not too hot that it will burn the butter). Dip the 'sandwich' in the beaten egg mixture on each side and place the 'sandwich' on the griddle until one side is browned and cooked. Add a little more butter to your griddle and carefully flip and cook the other side. Cook on medium to medium-low heat for approximately two-three minutes on each side, depending on your stove temperature- careful not to burn.
Remove and plate. Melt the remaining 2 tablespoons of strawberry preserves in a saucepan until melted. Drizzle the melted preserves over the Strawberry Cheese Stuffed French Toast, garnish and serve. Delish!
COMPLIMENTS: CYNTHIA FERICH