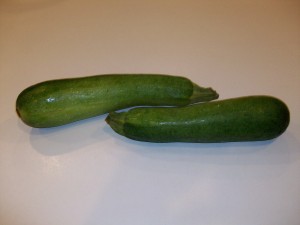 Okay, from the title, I guess you know we're talkin' zucchini, as promised. Tis' the season, and if you have zucchini plants in your garden, then you most likely have enough zucchini to feed your neighborhood! (and I hope you do).
With fond remembrances of my grandfather taking me by the hand as we 'investigated' the plants that he planted in his garden, I recall the many ways we shared zucchini. As we approached the large zucchini plants full of large green leaves, he would ask me, 'do you wanna to see what's-a under da leaves?" Well, to a child, did curiosity kill the cat? He lifted the large green leaves to show me the zucchini growing from the plants, and there they were…all on the ground and ready to pick. With soooo many zucchini, what do you do with them? Being that we ate from the garden all summer long, there were many ways to prep zucchini and enjoy the summer pick. So, with his bushel, he would fill it, make a delivery to my grandmother, and she would 'do her magic' in the kitchen.
As I played in the backyards, I watched her in the stages of cleaning, preparation, and her final "masterpieces!" And, if I stuck around long enough, I would be helping. While I helped her cook and dry the dishes, we shared treasured moments and laughter, told stories, and truly enjoyed the company of one another. Aromas permeated their home, and there was a feast for no other reason than to share, enjoy the bounty of summer, and to spend time together around the table. If my grandfather came in late from working outside tending to his gardening, she had a 'feast' waiting for him. He found reward and contentment in his family, food, wine, and labor throughout the hot summer days. And, she smiled from ours. We connected, and celebrated the day!
How do you like the attached photo of zucchini? Well, when I snapped the shot, I saw the 'ying and the yang', and then I realized…hey, there's a story here! The 'ying and yang' is all of balance. And, aren't we trying to balance every day? We balance our time, energy, thoughts, emotions, family, work, and the endless list of tasks to complete by the end of each day. With all of that being said, how do we balance our bodies? Nutrition, exercise, hydration, spiritual practices, vitamin supplements, focus, rest, relaxation, peace in accomplishment, connection to others and a giving heart? Now, are we talkin' balance? Work, yes, but aren't we worth it?
For today, let's begin with one: nutrition. Are we supplying our bodies with healthy choices and alternatives? Do you know where you food comes from and where it is grown? If not, it's okay, and maybe now we are aware of the pursuit and open to change? Imagine, all of these thoughts from looking at two zucchini!!
As for zucchini, it is the most popular summer squash in the United States, and entire cookbooks have been written on zucchini. No wonder…we had to find ways to prepare the summer's abundance.
To begin, the yellow-orange squash blossoms that grow on the zucchini plants are considered a delicacy. They are a good source of vitamin C, potassium, and the carotenoid beta carotene, and not to mention, attractive to the eye. My grandfather taught me to pick off some of the blossoms to make room for young and tender fruits of the plants, and to tend to them so that they would not become large and tough-skinned with huge seeds. The delicate blossoms that were picked needed to be prepared the day of picking. If not, they will wilt, lose their beauty, and their texture. The blossoms were battered and fried, which are excellent tasting. However, if you prefer a healthier version, they can be stuffed and sauteed.
There is the traditional green zucchini that most of us are familiar with, and there is also the golden zucchini. The golden version has a deep golden-yellow skin, a green stem, and is slightly sweeter than the traditional green variety. Globe squash looks like zucchini, tastes like zucchini, but are molded into a round shape. And, be sure to leave the skin on to benefit from the maximum nutrients.
For a few adventurous ways to prepare zucchini, I love Noni's Zucchini Bread, found on page 26 of "MaMa Mia Cucina~A Flavor of Good Food and Good Family", and Zucchini Squares, found on page 18. Other suggestions include stuffed zucchini, battered zucchini, breaded zucchini, zucchini parmesan, stuffed zucchini, and a zucchini saute.
For a nice zucchini saute, scrub the zucchini to remove dirt and sand, remove stems on each end, and slice approximately 1/4-inch thick. In a large, hot skillet, add the olive oil, garlic, and zucchini. Saute until all of the water is absorbed and the zucchini begins to turn golden-brown in color. Salt and pepper last, and serve with a sprinkling of grated Locatelli Cheese.
Amounts:
4 small to medium zucchini (I like to combine the green and yellow for color)
2 cloves of garlic, peeled and minced
2 Tablespoons of olive oil,
salt, pepper, and cheese to taste
Serve…share with your friends and family…enjoy!