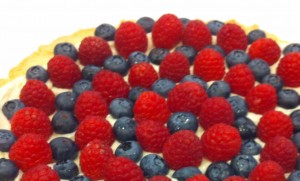 Love those summer-fresh berries! Top them on something that satisfies the sweet tooth, and oh…the temptation!
My little girls would grab their little plastic bowls and buckets, stroll down the driveway and into the 'berry patch'. If they were lucky, they would arrive before their forest friends! It was a smorgasbord of red raspberries and blackberries that were fresh-picked. If their eagerness of snacking on the berries could wait until they arrived home to wash them, they filled their bowls, grabbed a spoon, and YUM…enjoyed their reward.
With many requests for this berry tart, here you go…ENJOY! The tart makes a beautiful presentation for your family and friends. (bring some forks, and don't forget to share).
To begin, prepare in a tart pan with pretty fluted edges. A tart pan with a removable bottom works well.
Red, White and Blueberry Tart
Crust:
2 cups all-purpose flour
1-1/2 sticks unsalted butter, chilled
1/3 cup sugar
1 teaspoon organic orange zest
1 large egg
1/4 cup chilled cream
1/2 teaspoon salt
Combine flour, salt, sugar and orange zest. cut in chilled butter until tiny 'peas' begin to form. Slightly beat egg and cream together in a separate bowl and add to dry mixture. Mix and combine will until a dough forms. Careful not to over work the dough, as it will become tough. Press the dough into a removable bottom tart pan with fluted edges, and press into place. Line the crust with a sheet of foil and add a package of dried beans to prevent the dough from shrinking. Bake in a pre-heated 375 degree oven for approximately 30 minutes, or until the crust is golden brown and cooked. Remove from oven, lifting and removing the foil and beans. Cool.
Filling:
8 oz Mascarpone Cheese (Italian Cream Cheese)
2/3 cup sugar
1 teaspoon vanilla
1/2 teaspoon almond extract
Beat together the cheese, sugar, vanilla and almond extracts. Pour into the cooled tart shell and spread to cover bottom.
Topping and Glaze:
2 cups fresh Raspberries
2 cups fresh Blueberries
(note: you can mix up the berries with Raspberries, Strawberries, Blueberries and Blackberries)
1 cup orange marmalade
Wash berries and dry on paper towels until all water is absorbed. Melt marmalade and drizzle over berries, creating a glaze. Chill for at least 2 hours, removing the tart pan carefully before serving.
Buon Appetito!