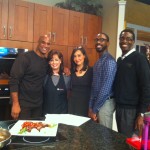 It was a double segment on December 17, 2015 in The Charlotte Today Studios. Oh, what FUN! And, it was all about holiday entertaining.
Pork & Sauerkraut – It is a tradition in some cultures to celebrate The NEW Year with this dish. To all of my southern friends, simply add the collards and black-eyed peas for a double dose of LUCK!
The Roasted Pork recipe is in my cookbook, MaMa Mia Cucina and to this recipe demonstration, I added my sauerkraut recipe. This is a great dish to set out if you're putting out a buffet on New Year's Eve, or inviting family & friends on New Year's day. It is easy to prepare and a simple 'roast' while you're watching football or cleaning up the house following the Christmas rush. Invite your loved ones to join you in celebrating the NEW Year with gratitude and all of the Best in the coming year. Happy NEW Year everyone ~ Enjoy! Cynthia
To VIEW the Charlotte Today Video for Roasted Pork and Sauerkraut, Click HERE
RECIPES:
Roasted Pork
1 medium to large lean pork loin roast
1 bulb of garlic, divided
Fresh rosemary sprigs
2 bay leaves
salt & pepper to taste
3 tablespoons olive oil
1 cup white wine
Wash pork and pat dry. Peel garlic cloves and set aside. With a sharp knife, insert pockets 1" deep all over the pork roast. Insert garlic cloves and rosemary into each pocket and rub with salt and pepper. Prepare a heated skillet with olive oil and brown meat with the bay leaves on all sides. Place meat in a roasting pan, pour the wine over and cover well with foil. If you have the time, marinate overnight at this point. Cook in a slow 325 degree oven for approximately 30-40 minutes per pound, adding water if needed. When cooked, the roast should be moist, and tender enough to fall apart.
Serve shredded with crusty Italian rolls, fried or roasted peppers, and slices of sharp provolone cheese. Excellent!
Sauerkraut
32 oz. (4 cups) Sauerkraut
1 large sweet onion, chopped
4 garlic cloves, peeled and minced
4 slices of Pancetta, chopped (or bacon)
2 Tablespoons olive oil
½ cup white wine
½ teaspoon black pepper
1 bay leaf
Rinse sauerkraut and drain. Meanwhile, heat a sauté pan and add the pancetta. Cook until crisp. Remove pancetta and set aside. Add the olive oil and chopped onion. Cook until translucent. Add the garlic and sauté until golden. Add sauerkraut, crispy pancetta, wine, black pepper and bay leaf. Top with a lid to your pan and Sauté for approximately 30 minutes, or until all liquid is absorbed and the sauerkraut absorbs all of the pan drippings and golden brown. Discard bay leaf.
Spread the sauerkraut around the shredded pork on a serving platter and serve.
Serving Suggestions: Serve with mashed potatoes for dinner, or set up a buffet with rolls for your party. This recipe is naturally gluten-free. Purchase GF rolls for your GF guests.
Pork & Sauerkraut for LUCK and new beginnings! Happy NEW Year!
Cynthia Ferich, author, culinary instructor, private chef
www.Cynthia Cooks.com
Pork Recipe compliments ~ MaMa Mia Cucina Cookbook
©All Rights Reserved
Segment #2 – The Olive Tap!
I Love the products at The Olive Tap! In preparing a dish to 'highlight' their wonderful products, I created a recipe using a couple of my favorites: 'Sophia's Blend' of Extra-virgin Olive Oil and Bordeaux Cherry Balsamic – YUM! Stop in to see my friend, Pete Barnes at the Ballantyne and South Park locations in Charlotte, NC, or visit a location near you. Your recipes are as good as your ingredients 😉
The recipe: 'Hot Tomato Bruschetta' atop a Beef Fillet with Gorgonzola crumbles
To VIEW The Charlotte Today Video for The Olive Tap segment, click HERE
Hot Tomato Bruschetta
1 pint of cherry or grape tomatoes
2 cloves of garlic
2 Tablespoons of The Olive Tap's 'Sophia's Blend' EVOO
2 Tablespoons of The Olive Tap's' Bordeaux Cherry Balsamic
4-5 Fresh basil leaves, chiffonade
Sprinkling of Salt & Pepper, to taste
After searing and cooking your beef steaks in a hot and heavy skillet, remove them from the pan and plate. Add EVOO and tomatoes, cook for 1-2 minutes and add the minced garlic. Cook until the tomatoes are tender and the garlic is a golden brown. Add the balsamic and cook for another 1-2 minutes. Chiffonade the basil (or chop it). Spoon the bruschetta on top of the steaks sprinkle with the fresh basil and gorgonzola crumbles. Serve & Enjoy!