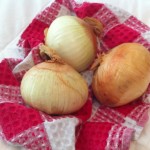 A day of reflection and celebration ~ Happy Father's Day!
On Sunday, June 17, take a moment and give thanks to all of our dads and fathers, husbands, grandfathers, great-grandfathers, godfathers, uncles, brothers, boyfriends and single moms out there.
Doing some outdoor grilling in celebration of the day? A favorite to accompany the grilled meats, poultry or fish ~ onions!
With Vidalia onion season in bloom, and a few simple ingredients, I would like to share a couple of my family favorites:
Grilled Vidalia Onions1 Vidalia onion
1 square of aluminum foil
1 tablespoon of olive oil
Garlic salt & pepper to taste
Completely peel the onion, and cup the top and bottom to sit flat. Score an X on the top of the onion. Place in the middle of foil square with enough to cover and twist at the top. Drizzle olive oil, and sprinkle with garlic salt & pepper. Sit on the grill top and let cook for about 30-40 minutes.
*Note: Prepare as many onions as you like, and let cook while other foods are cooking on the grill.
Vidalia Onion Casserole Bake
3 large Vidalia Onions, peeled and sliced
4 tablespoons salted butter, melted
1 cup sharp cheddar cheese, shredded
1 cup buttery crackers, crushed
1 tablespoon salted butter, melted
In a large skillet, melt the butter, add onions and sauté until lightly golden brown and caramelized. Add to a buttered 8 to 9-inch casserole dish. Sprinkle top with grated cheddar cheese.
Melt 1 tablespoon butter, add crushed crackers and toss. Sprinkle crushed crackers on top of the grated cheddar cheese.
Bake casserole for approximately 30 minutes at 350 degrees, or until lightly golden brown.
Serves 6 to 8