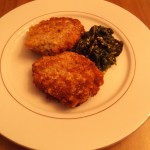 How many times have we opened the refrigerator door, looked inside and said, 'there is nothing to eat'. It's like looking in our closets and saying, 'there is nothing to wear'. We are so very fortunate to live in a country that is full of abundance (even if we think there is nothing to eat – there IS!).
This week, I opened the refrigerator wondering what I was going to prepare for dinner with what was in my refrigerator. There were some eggs, leftover mashed potatoes, a few leftover ears of corn, fresh spinach and onion. Suddenly, I felt like I was working on the Food Network in a food competition with only a few ingredients to prepare something wonderful? I did. Now, YOU be the judge. What did I prepare? :
Potato and Corn Pancakes
2 cups mashed potatoes
3 cups corn (cooked and cut off the cob)
4 green onions, sliced
2 eggs
½ teaspoon sea salt
Dash of cayenne pepper
*1-1/2 cups Panko Bread Crumbs
¼ cup light olive oil
In a mixing bowl, combine potatoes, corn, sliced onion, eggs, salt and cayenne. Mix together until well-combined. Form 8 patties and dredge each side in breadcrumbs.
In a large skillet, add oil and heat until oil is hot. Add 4 patties at a time until brown on each side, carefully turning on the other side to brown. Remove carefully and place on a plate of paper towels to absorb excess oil. Ready to serve!
Note: *For gluten-free, substitute 1-1/2 cups gluten-free bread crumbs
Spinach Sauté
6 cups fresh spinach
2 cloves garlic, peeled and minced
2 tablespoons extra-virgin olive oil
Dash of sea salt & pepper
Wash the spinach of all sand and dirt. If you purchase spinach pre-washed, wash it, and then wash it again. Add spinach to a large skillet with garlic and olive oil. Cover and cook (steam) slowly. When the spinach is cooked (it will cook down), remove the lid and sauté until the garlic is golden brown. Add sea salt and pepper to taste.
Okay…plate it up…spinach on the plate, arranging Potato and Corn Pancakes. This is a great summertime and vegetarian meal. For the meat lovers, grill a steak ( organic, grain-fed) to accompany the wonderful flavors of summer.