February is 'LOVE' month.
It's 'RED' in support of heart health awareness, taking care of our hearts, health, and those we love.
Cupid works his magic on February 14 in celebration of Saint Valentine's Day.
As my daughters were growing up, I enjoyed our time in the kitchen cutting out valentine sugar cookies (with lots of sprinkles), baking with my daughters and making the pink and red 'heart' crafts and special valentine's cards for classmates.
Mealtime was celebrated. Their milk was colored 'pink'; sandwiches were made into hearts, cutting out bread with a heart-shaped cookie cutter and a love note in the lunch bag. Pancakes were poured into a heart-shaped mold on the griddle. We added some mini-chocolate chips or fresh blueberries to the mix and they loved that special touch!
However you celebrate the month of February and Saint Valentine's Day this year, make it memorable. Eat healthy and take care of your heart. Open your heart to – LOVE! Tell someone you love them and lend a helping hand. Send flowers, a note, and poem or simply spend time with someone that you care about.
For the LOVE of FOOD, make it special.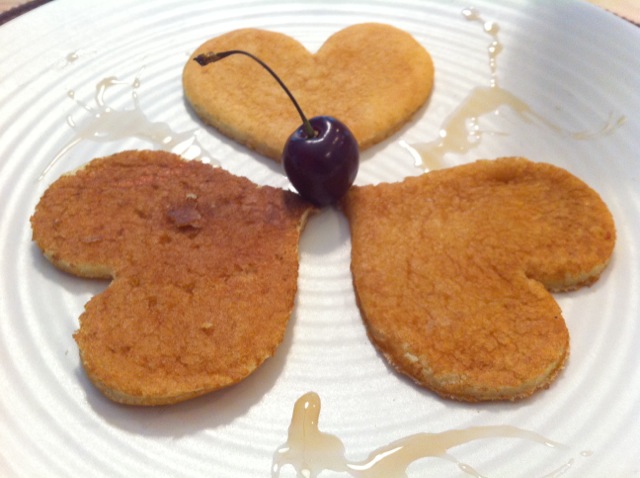 Pancakes
1-1/4 cup Flour
1-1/4 cup milk
1 Tablespoons Sugar
3 teaspoons baking powder
1 egg, slightly beaten
1 Tablespoon butter, melted
1 teaspoon vanilla
Pinch of salt
Combine liquid ingredients of milk, beaten egg, melted butter and vanilla. Whip until blended. Add dry ingredients of flour, sugar, baking powder and salt. Mix well until you have a blended batter.
Heat a griddle or skillet until a drop of water 'sizzles' – it's ready! Brush and grease the griddle with a little butter to prevent sticking. Pour batter for pancakes, whether you like one large, 4 medium, or 6 tiny pancakes – you're the chef!
When using a mold, pour the batter inside a greased mold on the griddle. When one side is browned, remove the mold and flip the pancake to brown the other side.
Note: For fun, create a toppings bar with fresh fruits and a variety of syrup