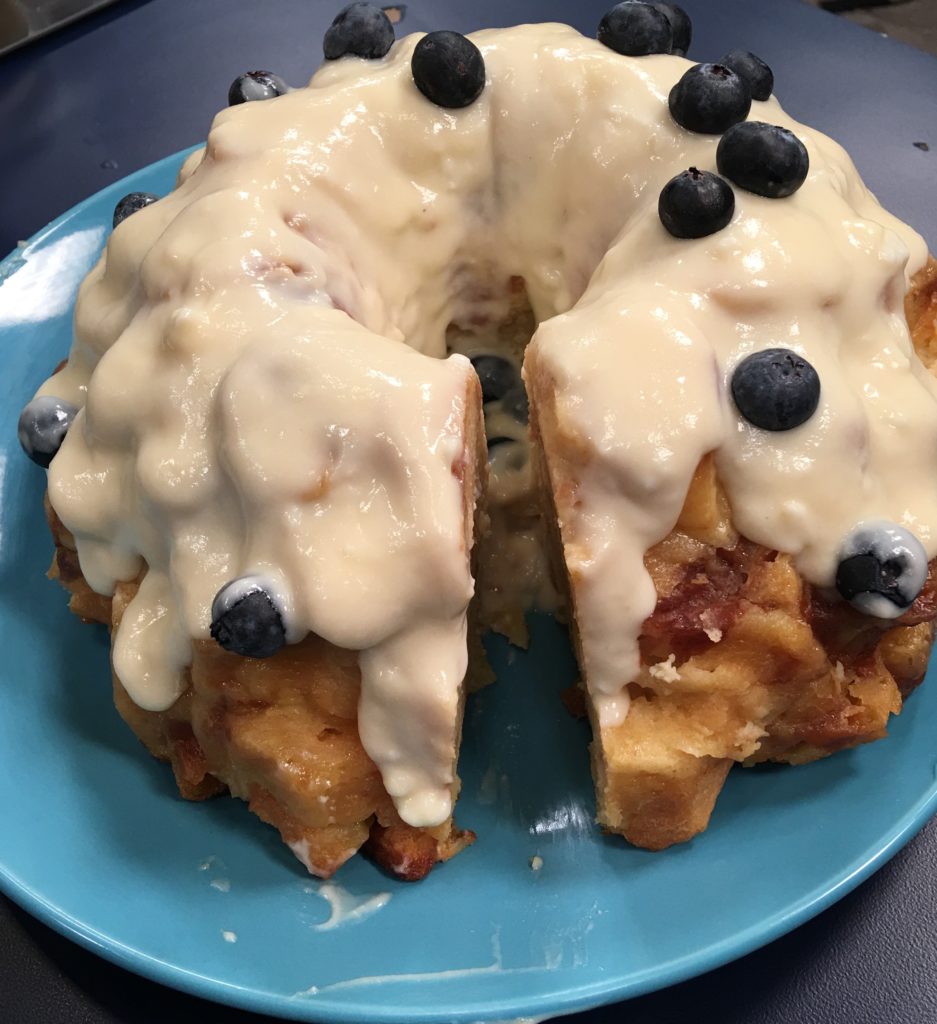 Serving up some Bread Pudding with Vanilla Sauce for a Mother's Day idea on Charlotte's WBTV / Bounce TV.
Brioche makes the best! bread pudding (in my opinion). However, you may substitute cinnamon bread or cinnamon raisin bread, if you like. Whether you bake & serve this up in a traditional casserole dish, a bundt pan or whatever creative baking piece you can find, it is easy to prepare ahead of time and really delish!
Bread Pudding
1 loaf brioche bread
1-quart half & half
10 large eggs (5 whole and 5 egg yolks)
2-1/2 cups sugar
1 teaspoon vanilla extract
Preheat oven to 350 degrees. Break the bread into chunks and add to a buttered 9 x 13 – inch casserole dish.
In a saucepan, add 5 whole eggs and separate 5 egg yolks (only) into the saucepan. Add the sugar and cream and whisk while simmering, carefully not to curdle the eggs. Cook until the mixture thickens, coating the back of a spoon.
Pour the hot custard mixture over the broken bread pieces and give it a few minutes to absorb. Bake for approximately 30 to 40 minutes. Allow to cool for 15 minutes before cutting into squares.
Note: Place a casserole dish filled with 1" of water under the bread pudding casserole rack to steam while baking – you will yield a better result.
© 2016 Cynthia Ferich All Rights Reserved
Personal Chef Magazine, Fall 2016 Publication
Vanilla Sauce
2 Tablespoons unsalted butter
1 Tablespoon flour
½ cup sugar
1-1/2 cups whole milk
1 egg, beaten
1 Tablespoon vanilla extract
In a saucepan, melt butter. Combine sugar and flour together and add to melted butter, along with milk and beaten egg. Whisk over medium heat until thickened (10-12 minutes), stirring constantly. Remove from heat and add vanilla. Stir and serve over bread pudding.
© 2017 Cynthia Ferich All Rights Reserved