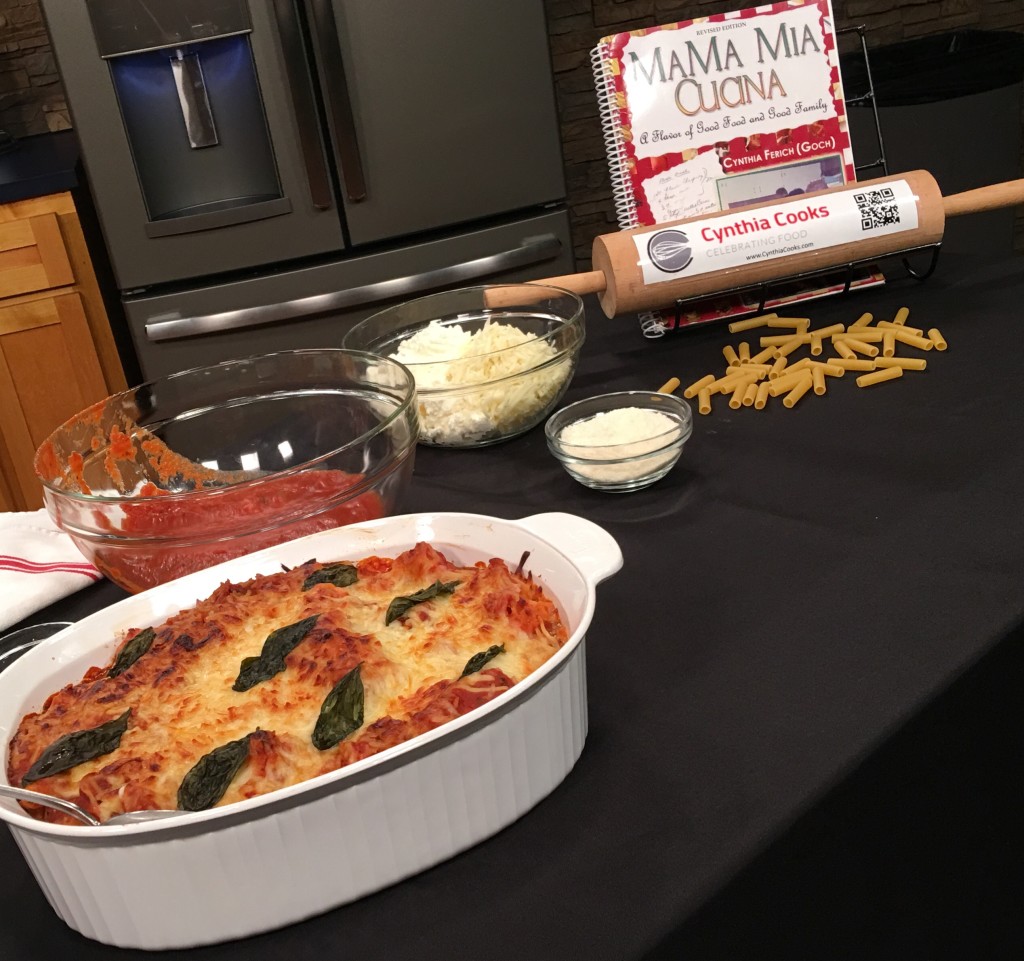 Good Monday morning! Just a little comfort food and a few notes of food ideas. My Italian version of Mac & Cheese with all of those ooeey gooeey baked-in cheeses all sauced up and spiced up. Enjoy!
Also love these ziti noodles for the sentiment they contain when my daughters were little girls as they painted them, strung them and gifted them into 'beautiful' necklaces.
As for the recipe:
BAKED ZITI
1 pound of Ziti Pasta (may substitute GF pasta), cooked and drained
4-1/2 cups Prepared Tomato Sauce, reserving (1-1/2 cups for top)
2 cups Ricotta
2 cups Mozzarella, divided
½ cup Parmesan Cheese
1 teaspoon dried oregano
1 teaspoon salt
1/8 teaspoon red pepper flakes (or more if you like spice)
Fresh Basil (reserve for topping)
1 Tablespoon Olive Oil
Bring a large pot of water to a boil and add 1 pound of ziti pasta. Cook al dente (slightly undercooked). The pasta will finish cooking in the oven. Drain in a colander and let cool, slightly.
Preheat oven to 350 degrees. In a large casserole, brush the bottom and sides with olive oil and set aside. In a large bowl, combine the tomato sauce and spices, reserving 1-1/2 cups. Add the pasta, ricotta, 1 cup of mozzarella and parmesan to the bowl and toss until well-combined.
Spread the mixture into the greased casserole and top with the reserved 1-1/2 cup of tomato sauce, remaining mozzarella and fresh basil. Bake at 350 degrees for approximately 30-45 minutes until the cheese is bubbly and melted through.
Notes: Make one – Give one – Share One
Great for a Tailgate, Comfort Food, Easy & Cheesy!
Get the Kids cooking and pre-cook the pasta. Let them prepare dinner!
Serve with a tossed salad and a loaf of Italian Bread
Meatless Monday or Sunday Dinner
Can be prepared ahead of time, refrigerated and baked. May require extra sauce if you like it saucy like me!
© 2016 Cynthia Ferich All Rights Reserved