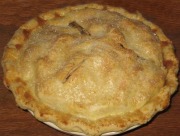 Our Favorite Apple Pie ~ Torta di
Mella
Apple Pie recipe taken from page 137
"MaMa Mia Cucina"
Crust:
2 cups flour, sifted
1 teaspoon salt
2/3 cup shortening
5-7 tablespoons chilled water
1 tablespoon sugar
Filling:
5 cups of peeled and sliced golden delicious apples
1/4 cup sugar
1/4 cup brown sugar
1 tablespoon lemon juice
3 tablespoons flour
1 teaspoon cinnamon
1 tablespoon vanilla
1/8 teaspoon salt
1/4 cup sweet, unsalted butter
1 tablespoon sugar
To prepare crust: Combine flour, salt and shortening with a fork until the texture
resembles the size of small peas. Add chilled water and combine well. Divide in half
and roll each piece into a 9-10 inch round. In a pie pan, sprinkle the sugar and place one
pie crust on top of the sugar. Add filling and top with the second crust.
To prepare filling: In a large bowl, combine apples, sugars, lemon juice, flour,
cinnamon, vanilla, and salt. Mix all ingredients with a wooden spoon and pour into
prepared pie crust. Slice the 1/4 cup of butter into small pieces and place over apples.
Add top of pie crust. Seal and flute edges, and prick the top for the steam to escape.
Sprinkle the pie with 1 tablespoon of sugar. Bake at 350 degrees for 1 hour, or until the
top of the pie is golden brown.