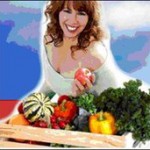 When I am in the presence of a great teacher, she has my full, undivided attention!
I had the great pleasure of spending a weekend with my friend and mentor, Christina Pirello of the Emmy-Award Winning PBS Series, Christina Cooks, at the Restaurant School of Philadelphia during her 'Intensive Study Program'.
While Christina offers a variety of classes each month, my experience with her 'Intensive Study Class' is an accelerated offering, with a great deal of information regarding health, nutrition, how our bodies transform food to energy, and what it takes to keep our 'engines' running at optimal levels. Also included within the program are team-building exercises, recipes to work from, and encouragement to create new recipes from remaining class ingredients. At the end of the weekend, it's a 'Top Chef' group experience as we create, present, and share the 'fruits of our labor' with the class.
Students flock from many lands to attend Christina's classes. So, what makes Christina's programs so special? She is an active advocate for health, she applies a wealth of knowledge and information from her personal, professional and educational experiences, while incorporating her wide-range knowledge of Chinese medicine within her programs. Her classes are a blast!
Christina is a fiery red-head with an invigorating humor that flows effortlessly! She possesses a natural gift of teaching, as well as a nurturing spirit that touches and reaches the masses. Christina genuinely cares about your health and well-being. I highly recommend you join her and attend her classes! It's all about food, health and fun…does it get any better? Sign up at: www.ChristinaCooks.com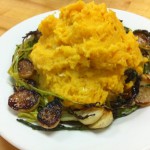 During my 'Top Chef' team experience, one of the dishes that we created was so delicious, nutritious, and pleasing to the eye that I must share. Do I have your attention? Try this one for yourself…
Parsnip and Sweet Potato Mash with Braised Baby Turnip and Greens
Vegetable Mash:
1 large sweet potato, peeled and cubed
2 large parsnips, ends removed and cubed
Pinch of sea salt
2 Tablespoons of Earth Balance
1/2 cup almond milk
Add cubed vegetables and salt to a saucepan, adding about 1-inch of filtered water. Cover, and bring to a boil. On low heat, simmer until tended and most of the water is absorbed. Whip vegetables with an electric mixer or masher, adding the Earth Balance and almond milk.
Braised Baby Turnip and Greens:
6-8 baby turnips, washed and the root end snipped/removed
Sea salt
Olive oil for braising
Slice each baby turnip vertically, leaving the greens in tack. In a large skillet, add a coating of olive oil and heat until hot. Add each baby turnip (with the greens) cut side down in the skillet. Cover and cook until crispy brown, and seasoning with a pinch of sea salt.
To assemble, mound the vegetable mash on a plate or platter and arrange the turnip and greens around the outside rim of the mash.
Absolutely Delish!!