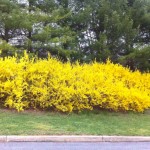 Memories from my mother's kitchen window ~
Stop…Look…and Listen… Beauty surrounds us as we enjoy spring in full bloom. I particularly enjoy the forsythia bushes in their radiant yellow blooms. You may wonder, what do forsythia bushes have to do with food? For me, they are memories from my mother's kitchen.
When I was a little girl, we had a large window in our kitchen which overlooked a hedge of forsythia bushes in our backyard. Each spring, when the bushes began showing off their radiant yellow blossoms, my mother would say, "look…the 'For-Cynthia's' are in bloom!" I remember asking her why they were called 'For-Cynthia's?" She replied, "They bloom every year…just for you." I remember thinking…WOW! These flowers are really named after me??
So, each year as spring arrived and the bushes bloomed, I watched my mother baking her favorite cake in her kitchen, sharing the same story year after year. Until, one day, I realized that the 'For-Cynthia' bushes were really 'Forsythia', I came to cherish the memories.
As my daughters were growing up, and we walked the neighborhood enjoying the 'For-Cynthia' bushes, I shared my story with each of them. For them, we planted a tree on the year they were born, which blossomed in the spring. Each year, we enjoyed the new growth of little girls, as well as new branches and blooms.
My wish is for every child to know that they are loved and special. They will grow up feeling empowered and accomplishing great things because they will know someone loved them and made them feel special. If you are blessed to be in the presence of a child today, spread the love…
My Mother's Favorite Chocolate Cake ~ her recipe
Recipe taken from "MaMa Mia Cucina ~ A Flavor of Good Food and Good Family"
Cake:
2 sticks of margarine (I prefer Earth Balance)
1 cup water
4 tablespoons cocoa
2 cups flour
2 cups sugar
1/2 teaspoon salt
1/2 cups sour cream
1 teaspoon baking soda
2 eggs
Icing:
Boil 1 stick of margarine (I prefer Earth Balance)
4 tablespoons cocoa
6 tablespoons milk
1 pound box of powdered sugar
1 teaspoon of vanilla
Preheat oven to 350 degrees. Grease and flour a jellyroll pan and set aside. In a saucepan, combine and melt margarine, water, and cocoa. Cool slightly. With an electric beater, combine with remaining ingredients and spread batter into jellyroll pan. Bake at 350 degrees for 18-20 minutes. Meanwhile, prepare icing using an electric beater, and spread over warm cake. Cool, cut and serve.