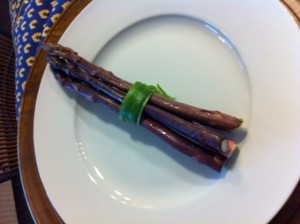 Today, we celebrate 'Earth Day', which is an annual worldwide event, held to demonstrate support for environmental protection. It also serves as a reminder as we recycle unused or items that are no longer needed, to donate or share with others.
It is also a reminder to celebrate the earth and her food source! It's Spring and a time for more fresh fruits and vegetables, more sunshine and daylight hours, exercise and that healthy feeling! The excess of cold and winter are no longer needed as we refresh and add more freshness, cleansing and seasonal veggies to our diets.
One of my favorites is asparagus, which is now in season in many parts of the country, considered a cleansing vegetable, it is plentiful, easy to prepare, full of fiber, vitamins, low in calories and did you know… available in 3 colors? Green, Ivory and Purple
Most of us are familiar with the pretty green stalks; the Ivory stalks are buried under soil blocking the sunshine, therefore unable to produce the chlorophyll necessary for color. These pretty ivory stalks are slightly bitter compared to its green sister. The purple are pretty and slightly sweeter that it's green sister.
If you have the opportunity, give them each a try, eat fresh, organic and make it simple:
Asparagus with Lemon and Olive Oil
I bunch of Asparagus (purple, ivory or green)
Bunch of Scallions
½ of a fresh Lemon
2 Tablespoons extra-virgin olive oil
Sea Salt & Freshly Cracked Pepper, to taste
Wash asparagus well and trim off 1-2" of the 'woody' ends off of the bottom (recycle the ends for broths).
Take 3-5 asparagus stalks and tie with a green scallion (removing the white part) and repeat until all bundles are tied.
In a skillet with a lid, add ½ inch of water and bring to a boil. Add a single layer of asparagus bundles, cover and steam, until fork-tender (approximately 4-6 minutes). Remove with tongs and drain on paper towels. Repeat until all stalks are steamed. Or, steam all in a steamer if you have one. Add to a serving platter, drizzle oil, freshly-squeezed lemon juice, salt & pepper. Serve. Garnish with fresh lemon slices or wedges.
Pretty. Healthy. Delicious!