Peaches & Cream Bread Pudding
Peach Compote
6 Fresh Peaches, peeled, seeded and sliced
4 Tablespoons unsalted butter
1/3 cup brown sugar, packed
1 teaspoon vanilla extract
1 Tablespoon Limoncello
Serve with Cream, Ice Cream or Whipped Cream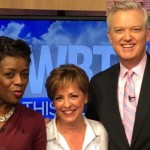 In a saucepan, melt butter, add sliced peaches and brown sugar. Sauté for approximately 10 minutes on low heat until peaches are caramelized. Add vanilla and Limoncello and sauté for another couple of minutes. Serve warm.
Bread Pudding
1 loaf brioche bread
1-quart half & half
10 large eggs (5 whole and 5 egg yolks)
2-1/2 cups sugar
1 teaspoon vanilla extract
Preheat oven to 350 degrees. Break the bread into chunks and add to a 9 x 13 – inch casserole, buttered.
In a saucepan, add 5 whole eggs and separate 5 egg yolks (only) into the saucepan. Add the sugar and cream and whisk while simmering, carefully not to curdle the eggs. Cook until the mixture thickens, coating the back of a spoon.
Pour the hot custard mixture over the broken bread pieces and give it a few minutes to absorb. Bake for approximately 30 to 40 minutes. Allow to cool for 15 minutes before cutting into squares.
Note: Place a casserole dish filled with 1" of water under the bread pudding casserole rack to steam – you will yield a better result.
© 2016 Cynthia Ferich All Rights Reserved
Save
Save