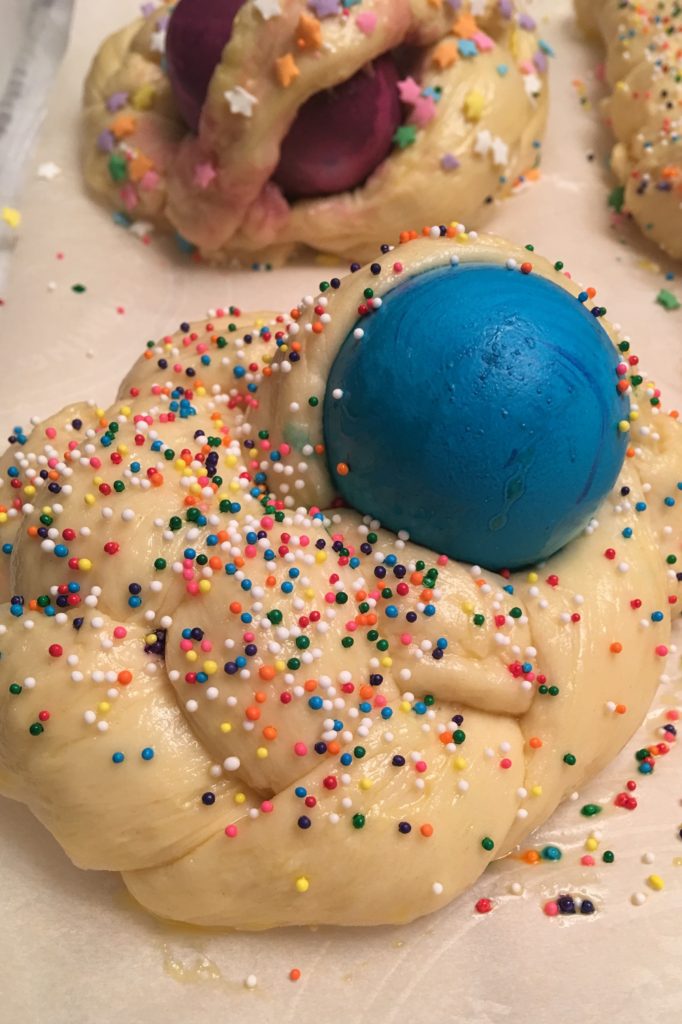 Easter Bread – that sweet bread that tastes even better with sprinkles and icing! Doesn't everything?! This recipe has a very 'sweet' spot in my heart in more ways than one.
Holidays and baking just seem to be synonymous and can bring us back to those special moments in the kitchen of preparation or 'round the table with those that we love. My Noni taught me how to make breads when I was a little girl and we began with sweet bread. Because…it was sweet! There was a reward at the end if I stayed and helped her. Little did I know at the time that she was helping me. She was my teacher. Being that she was the bread maker, the whole family reaped the benefits.
When my daughters were little girls, I would make the same sweet bread for Easter and we would make Teddy Bears out of the balls of dough that I would save for them. They had raisins for eyes and delighted in the warm bears from the oven. In the end…we are creating delicious memories.
Bread sustains many and has a rich history. In the Italian Easter culture, this Easter Bread is traditionally rolled into ropes, braided, formed into a wreath, symbolizing the thorns of Jesus. Eggs are placed into the dough wreath (usually colored) and wrapping a piece of the braid over the egg to keep it in place while baking. The egg is raw and will cook while the bread is baking.
Eggs are symbolic of new birth, hence, Spring!
As for the recipe:
Easter Bread
(Makes 6 mini wreaths or 1 large)
2 packages rapid rise instant yeast
1-1/4 cup milk
1/4 teaspoon salt
1/3 cup unsalted butter
2 large eggs, beaten
1/2 cup granulated sugar
4 cups bread flour (plus more for dusting)
vegetable oil for greasing bowl
1 large egg, beaten with 1 teaspoon of water
6 colored Easter eggs – uncooked
Colored Sprinkles
First proof the yeast: In a saucepan heat/scald the milk to warm 110-115 degrees, add the 2 packets of yeast and 2 tablespoons of sugar. Let sit for 5-10 minutes until it doubles and bubbles.
In a large mixing bowl, combine warm yeast mixture, salt, butter, beaten eggs and remaining sugar. Add about half the flour and beat until smooth with a dough hook, or you can also knead the dough with your hands. Slowly add remaining flour to form a soft/stiff dough as it comes together and is no longer sticky.
Add a couple of drops of oil to your hands and rub the dough ball. Cover the bowl with plastic wrap and a towel. Place in a warm spot until doubled – about 1-1/2 hours. Punch down the dough and divide into 12 pieces, if making 6 small circle loaves. (If making 1 large, roll out 2 large pieces). Roll each piece to form a 1-inch thick rope about 12-inches long. Taking two pieces, twist to form a 'twist', then pinching the ends. Form a circle.
Bake at 350 degrees until golden brown, approximately 25 minutes. (if the bread browns too quickly, turn the oven down to 325 degrees). Cool.
Line a baking sheet with parchment paper to fit, cover and let rise until double – about 1 hour. Brush each bread ring with a beaten egg wash and sprinkle with sprinkles. Gently place a colored egg inside the circle.