Save the Ham Bone!!
If you were fortunate to bake a ham for the Easter holiday, or what will one day, be again, a family gathering, … Keep the ham bone – stretch your dollar $$$ it's a whole nother meal (or two!). If you have enough to feed your family, feed another. Jar the soup and give it away to those in need. Soup goes a long way and tastes so good any time of year. It is also inexpensive to prepare and feeds many.
Soup is good on its own, with a sandwich or salad. It's a meal you can freeze to enjoy at another time, it's a great grab-and-go for lunch on the run (when you forget to pack one), and it just goes down easy and warms you from the inside. Whenever I deliver soup to someone, they are so grateful and it makes me so happy.
As for the economics of ham & bean soup, we are talking about the ham bone that was (almost) tossed out, a few stalks of celery and carrots, onion and garlic, chicken stock, pantry staples of dried beans (a great inexpensive investment in nutrition) and some spices. Within a few hours of time and a few $$$ – Soup's On!
Did I mention that soup was e.a.s.y. to prepare? This could also be a cooking lesson and bonding time to share with anyone at home. Soups are great to prepare while we are at home because they need to slow simmer for a little while.
Let's first gather all of our ingredients (mise en place) that we will need for the recipe. This is a great idea to begin so that there are no surprises. To begin, you will need a large soup/stock pot, which holds about 10-12 cups, at least, with a lid.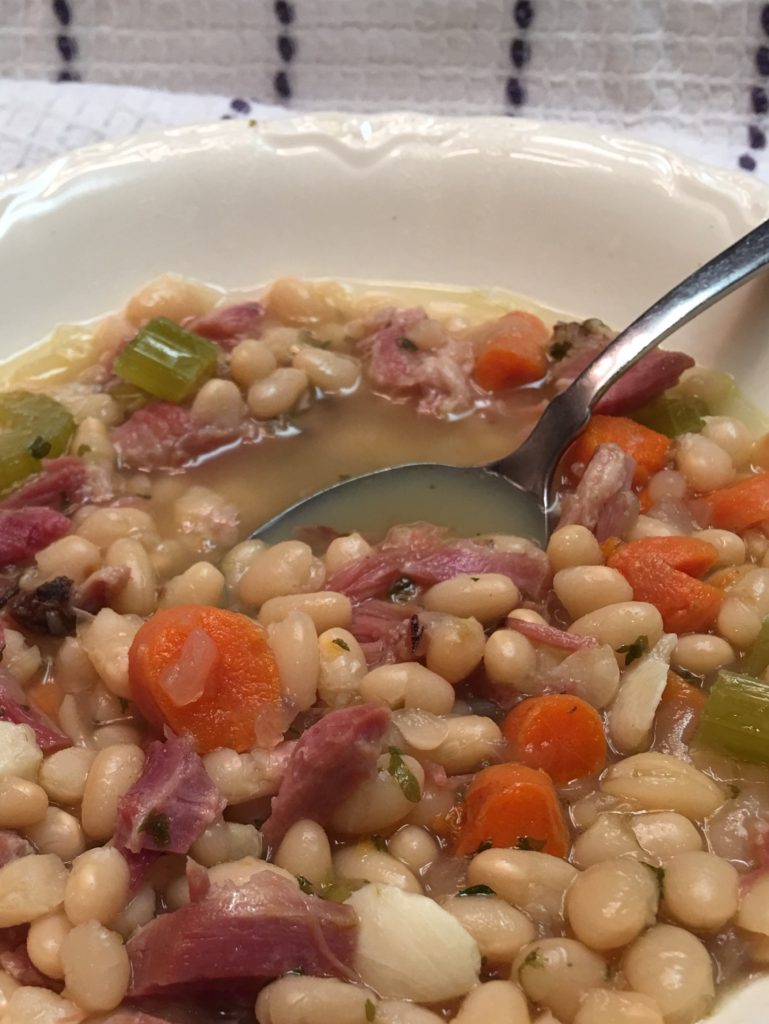 Ham and Bean Soup Recipe
1 bag of dried northern beans
2 Tablespoons butter
2 Tablespoons extra-virgin olive oil
1 large sweet onion, chopped
4 cloves garlic, minced
2 carrots, chopped
2 stalks celery, chopped
6 cups chicken stock OR water
1 teaspoon salt
1/2 teaspoon black pepper
1-2 Tablespoons Parsley (1 Dried or 2 Fresh)
Place beans in a colander and rinse with cold water. Add them to a bowl and completely cover with cold water and let soak overnight.
In a large soup pot, melt the butter and olive oil, together and add the onions, celery and carrots. Cook until caramelized. Add the garlic and cook for 1 minute. Add the ham bone, drained beans, spices, parsley and liquid. Cover. Bring to a boil and turn the heat to a low simmer and cook until the beans are fork tender – approximately 2 hours.
Remove the ham bone and cut off any lean pieces of ham into small pieces and place back into the soup pot. Discard the bone.
Note: If you have a small ham, or pieces of ham, follow the same directions and cook the pieces of ham with the beans. Broth would add additional flavor rather than water.
Enjoy! This is very good on its own, or with some fresh warm crusty garlic bread.