Cooking Tips on My Favorite Foods
"One Sauce…One Family…Three Ways…"
Compliments of Cynthia Goch
Memories of growing up with my grandfather's garden, next door, I have to say… hands down… that one of my all-time favorite foods is the tomato! I'm talking about the summertime, organic, ruby-red, fresh-from-the-garden, sun-kissed tomato! Along with the tomato comes the garlic, fresh basil, olive oil and Romano cheese. Combine these ingredients and you have one of the best flavo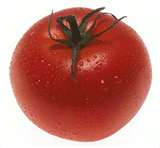 r-full, and versatile sauces known to mankind! My favorite: Noni's Tomato Sauce (Gravy) – MaMa Mia!!
My grandfather planted enough tomatoes during the summertime to feast on throughout the season, share with friends, and then have enough left over for us to can and preserve for sauces throughout the entire year.
If you are fortunate to grow your own tomatoes, kudos! If not, visit your local farmer or farm stand during seasonal availability. Out of season, purchase canned tomatoes that contain tomatoes, salt and water. Read the labels and know what you are purchasing.
As for the tomato sauce – In my home, I prepare food in many ways to meet the dietary needs of my family, doubling my grandmother's recipe:
One for the vegetarian
One for the meat lovers
One that must be gluten-free
For the vegetarian, I prepare my grandmother's tomato sauce (gravy) recipe using all veggies, omitting all meat and substituting the chicken broth for veggie broth.
For the meat lovers, Noni's classic tomato sauce (gravy), we add meatballs, sausage, braciole, chicken and pork.
For the gluten-free diet, there cannot be a trace of wheat, oat, barley or rye in any of the ingredients. Again, read the labels. Meatballs, sausage, and braciole are prepared without bread or breadcrumbs. Gluten-free breadcrumbs may be substituted for recipes calling for bread or breadcrumbs. Ingredient labels are also read for tomato paste and purchased broths. These must be gluten-free for those that are gluten intolerant or have gluten allergies.
If your family has dietary needs like we do, try adding a healthy Mediterranean tomato sauce, prepared once, three ways, with pasta options such as traditional and whole wheat. For gluten sensitivities or allergies, try brown rice or quinoa pasta, cooked quinoa or cooked rice as alternatives.
Tip: Prepare sauces, freeze individually, label, and use at another time.
Buon Appetito!