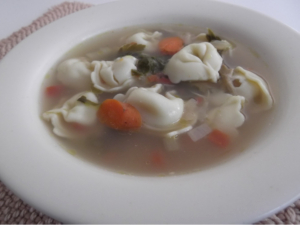 Chicken Vegetable Tortellini Soup
3 tablespoons olive oil
1 whole organic chicken breast or 2 split breasts
3 carrots, chopped
3 celery stalks, sliced
1 large sweet onion, peeled and chopped
5 garlic cloves, peeled and minced
2 cups fresh spinach, washed and drained
½ cup freshly chopped Italian flat-leaf parsley
1 gallon fresh filtered water
1 teaspoon sea salt
2 cups of cannellini beans (fresh-cooked and drained, or canned and drained)
1 pound of fresh tortellini, cooked and drained
Grated Romano Cheese for serving (optional)
In a large stockpot, add olive oil, chopped carrot, onion, celery and garlic. Sauté soup on medium-low heat until translucent (about 5 minutes). Add chicken, salt, spinach and water. Bring to a boil and then reduce temperature to low heat and cover with a lid. Simmer for approximately 4 hours.
Meanwhile, cook tortellini in boiling water until al dente. Drain and set aside.
Remove chicken from stockpot, cool slightly and shred. Add the shredded chicken, beans and tortellini to the stockpot. Ladle soup and serve with grated Romano cheese.
Note: For a gluten free option or those with gluten allergies or intolerances, replace the tortellini with quinoa, gluten-free pasta, or rice.