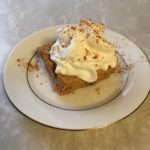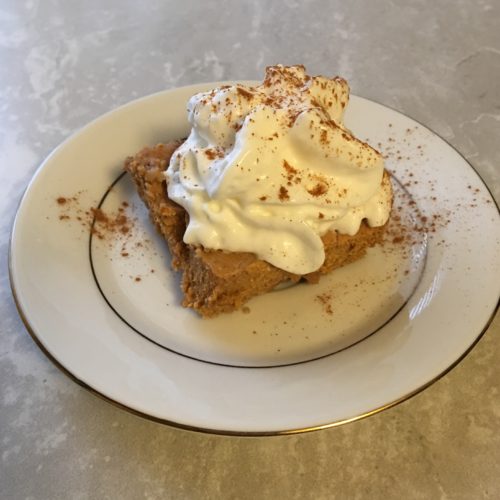 Gluten-Free Pumpkin Cheesecake Pie Bars
October through December, with November being the heavy-hitter month for pumpkin, it surely is a seasonal 'fruit'. Yes, fruit, with all of its seeds, which we all know are great for toasting!
I wanted to try something a little different this year other than the traditional pumpkin pie. I needed to bake one gluten-free pie, so to make things a little easier on myself and to test a new recipe, I thought I would share this one with you, too. I was thinking something between a cheesecake and a pumpkin pie, or a slab pie. What I came up with was a gluten free pumpkin cheesecake bar pie. Baked in a 9 x 13 inch-pan, it's a little lighter and creamier than pumpkin pie with all of the great spice flavor.
As for the crust, instead of preparing a traditional GF crust, I found gluten-free ginger cookies at Trader Joe's, which worked out great! With all of the sugar & spice in the cookies, I was able to scale back in the filling. Not to mention, it was a super-easy alternative. Just process the cookies in a food processor to create the fine crumbs. If you don't have a food processor, place the cookies (do 1/3 at a time) in a zipper bag, zip out all air, and crush with a rolling pin until finely crushed.
Gluten-free cooking and baking has become so much easier these days with products much more readily available. I can tell you that they liked it - it's ALL gone 🙂
Ingredients
2

cups

pumpkin

4

eggs

3/4

cup

sugar

16

oz.

cream cheese

softened

1

teaspoon

vanilla extract

1

teaspoon

cinnamon

dash

salt
Instructions
Combine all ingredients together and mix with an electric mixer until well-combined. Pour into prepared gluten-free crust and bake at 350 degrees for approximately 45 minutes until set.

Note: Bake with a pan of water on the lower rack, below the cheesecake, to create a 'water bath' for a creamier cheesecake.
Crust: 1 - 7.2 oz. package of Trader Joe's Crispy Crunchy Gluten Free Ginger Cookies
Follow previous instructions on crushing cookies into crumbs.

Combine crumbs with 1/2 stick (4 Tablespoons) melted butter, until well- combined.

Press into a 9 x 13-inch pan and bake for 5 minutes. Cool.

Pour filling and follow baking directions.

Remove from oven when baked and cool completely.
Recipe Notes
Serve with whipped cream.