Super Bowl 50 Game Day Eats Cooking Segment on CBS affiliate WBTV / Charlotte, North Carolina / Bounce TV.
Football + Wings + Gorgonzola Cheese Dip = The focus of today's cooking segment, this February 1, 2016, with anchor, John Carter.
So, let's lighten the wing idea, as I also prepared a healthier version in creating a Buffalo Chicken Lettuce Cup, along with a Gorgonzola Cheese Dip. Because, That's Italian!
We are all gearing up for Super Bowl 50 here in Charlotte and across the country. It's a great time to be living in this Panther City. I love both teams, so this Sunday should be a great game!
As for 'Food Talk', wings are super easy to prepare. To save on a messy clean-up, bake the wings in a large heavy foil pan and heat the oven to 400 degrees. For 2-3 pounds of wings, pour 1 small bottle of your favorite hot sauce (I say 'wing' sauce) over each wing until well covered and combined. Bake until most of the sauce is absorbed 2-3 hours, turning once during baking time. You should have a nice crispy wing to dip into the Gorgonzola Cheese Dip (recipe below). The Cheese Dip recipe can also be served as and with a salad of your favorite lettuces, cooked and crumbled bacon (turkey or pork), diced tomatoes, and an option of chopped green onion.
For the Buffalo Chicken Cups, bake or slow-cook (in your slow-cooker), 2-3 pounds of boneless chicken breasts, add a small bottle of hot sauce and about 1/2 cup of water or beer, as the breast meat tends to dry out. After it is cooked, fork tender, shred the chicken and top a Boston lettuce leaf along with the toppings and Gorgonzola Cheese Dip. The WBTV News Team loved them!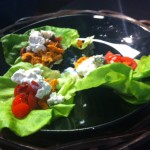 I wish you all a happy game-day celebration!
Gorgonzola Wing Dip
2 cups crumbled Gorgonzola, reserving 1 cup
1/3 cup light cream
1/3 cup sour cream
4 oz. cream cheese, softened
½ teaspoon salt
Black Pepper, to taste
Combine softened cream cheese, sour cream and light cream. Fold in 1 cup of crumbled Gorgonzola and salt & pepper. Blend until well-combined and creamy. Top with remaining 1 cup of Gorgonzola and chill at least one hour before serving.
Serve with your favorite Game Day Hot Wings, Hot Shredded Chicken Lettuce Cups, or on a Lettuce Wedge Salad. Add bacon crumbles and chopped tomato to your salads. Delish!
Recipe prepared for CBS / WBTV News, Charlotte, NC, Cooking Segment, February 1, 2016
Cynthia Ferich, Author, Culinary Educator, Private Chef
© 2016 Copyright Cynthia Ferich